Archived information

Archived information is provided for reference, research or recordkeeping purposes. It is not subject to the Government of Canada Web Standards and has not been altered or updated since it was archived. Please contact us to request a format other than those available.
We will remain focused on what matters to Canadians—jobs and economic growth, and ensuring Canadas economic advantage today will translate into the long-term prosperity of tomorrow.

— The Honourable Jim Flaherty,
Minister of Finance
Canadas Economic Action Plan continues to deliver results for Canadians. Among Group of Seven (G-7) countries, such as the U.S., Germany and Japan, Canada has had the strongest record of growth and job creation over the economic recovery (Chart 1.1). Since the depth of the global economic recession, the Canadian economy has created over 950,000 new jobs, overwhelmingly full-time, well-paying jobs in the private sector. The economic recovery has been largely driven by the vitality of Canadian households and businesses. Indeed, Canada is the only G-7 country to have more than fully recovered the business investment that was lost during the recession.
Chart 1.1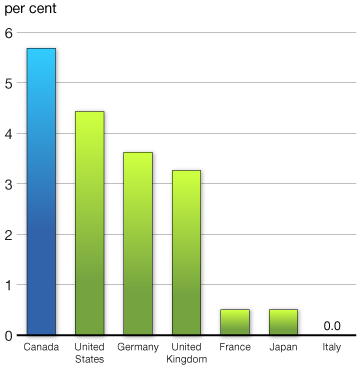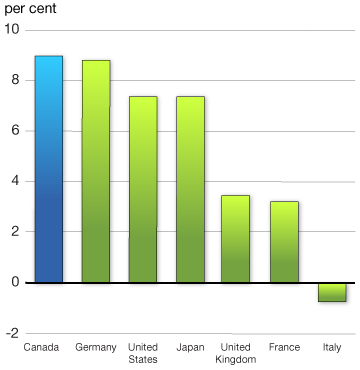 While the Canadian economy continues to grow and create jobs, the challenges confronting us are significant. The global economy remains fragile as the United States, our major trading partner, continues to experience modest growth and the euro area remains in recession. At the same time, global competition from emerging market countries is intensifying. Despite Canadas strong record of job creation, too many Canadians are still looking for work.
In this uncertain environment, the Governments focus is clear: jobs and the economy. We will stay the course by continuing to implement the Economic Action Plan: a plan for jobs, growth and long-term prosperity.
In Economic Action Plan 2012, the Government took decisive action to ensure that Canadas economy will create good jobs, to sustain a higher quality of life for hard-working Canadian families, and to position the country for success in the 21st century global economy.
Economic Action Plan 2013 builds on the strong foundation that was laid last year—in fact, the strong foundation that has been built since 2006—with affordable measures to create jobs, promote growth and support long-term prosperity. It bolsters the fundamental strengths and resilience of the Canadian economy. This includes our robust and resilient financial sector, which fosters business investment and growth. Our global reputation is strong. Canada has earned the trust of global investors for its responsible fiscal, economic and financial sector management. Canada is alone among the G-7 countries to receive the highest possible credit ratings from all the major credit rating agencies, which contributes to low borrowing costs.
Economic Action Plan 2013 strengthens this record with actions in all areas that drive economic progress and prosperity by:
Connecting Canadians With Available Jobs by equipping them with the skills and training they require to obtain high-quality, well-paying jobs.
Helping Manufacturers and Businesses Succeed in the Global Economy by enhancing the conditions for creating and growing businesses, including measures to support a globally competitive manufacturing sector, build on Canadas financial sector advantage, increase and diversify our exports, and develop our natural resources in a safe, responsible and secure way, in order to sustain and create high-quality, value-added jobs.
Creating a New Building Canada Plan that adds to the unprecedented investments in public infrastructure since 2006 with a new infrastructure plan focused on projects that create jobs and economic growth and provide a high quality of life for Canadian families.
Investing in World-Class Research and Innovation and fostering a vibrant entrepreneurial culture where new ideas are translated from laboratories into the marketplace.
Supporting Families and Communities by expanding opportunities for Canadians to succeed and enjoy a high quality of life.
Ultimately, the resilience of the Canadian economy, and its ability to thrive in the 21st century global economy, are underpinned by a strong fiscal position. To ensure that Canada is well positioned to withstand any future economic shocks and address the future priorities of Canadians, Economic Action Plan 2013 sets out a low-tax plan to eliminate the deficit and return to balanced budgets by 2015-16. It achieves this by controlling direct program spending by federal departments, while maintaining the Governments commitment not to raise taxes or cut transfers to Canadians and other levels of government.
Canadian workers are among the highest educated and best trained in the world. However, the training system must be better attuned to helping Canadians obtain the skills they need to obtain high-quality jobs. To help Canadians connect with available jobs, Economic Action Plan 2013 introduces a three-point plan to:
Create the Canada Job Grant, which will directly connect skills training with employers and jobs for Canadians. The Grant will be introduced by negotiating renewal of the $500-million-per-year Labour Market Agreements with the provinces and territories in 2014–15.
Create opportunities for apprentices by working with provinces and territories to examine the use of practical tests as a method of assessment and harmonize requirements, and by introducing measures that will support the use of apprentices through federal construction and maintenance contracts, the Investment in Affordable Housing and infrastructure projects.
Provide support to groups that are underrepresented in the job market such as persons with disabilities, youth, Aboriginal peoples and newcomers by:

Enhancing skills training opportunities for Canadians with disabilities through a new generation of Labour Market Agreements for Persons with Disabilities that will be introduced by 2014, and reforming and extending the Opportunities Fund to provide more demand-driven training solutions for persons with disabilities.
Promoting education in fields where there is high demand from employers, including in science, technology, engineering, mathematics and the skilled trades.
Investing $70 million over three years to support 5,000 more paid internships for recent post-secondary graduates and confirming support for Pathways to Education Canada, a not-for-profit organization that works with youth to increase rates of high school completion.
Helping improve educational and labour market outcomes for Aboriginal peoples by investing to improve the on-reserve Income Assistance Program, providing funding for post-secondary scholarships and bursaries, and expanding Cape Breton Universitys Purdy Crawford Chair in Aboriginal Business Studies.
Continuing to work with provinces and territories and stakeholders to improve the foreign credential recognition processes, thereby enhancing the integration of internationally trained individuals into the job market.
Every day, Canadian businesses are confronted with the many challenges of a competitive market. They need their government to be a partner in achieving success, not an impediment to it. Canada's Economic Action Plan has lowered taxes and tariffs, eased unnecessary regulatory burdens, and improved conditions for new and growing businesses. To help Canadian businesses in key sectors of the economy, such as manufacturing, create high-paying, value-added jobs, Economic Action Plan 2013:
Provides tax relief by extending the temporary accelerated capital cost allowance for new investment in machinery and equipment in the manufacturing and processing sector for an additional two years, providing the sector with support of $1.4 billion over four years for retooling that will enhance competitiveness and economic growth.
Builds on the National Shipbuilding Procurement Strategy to better ensure that purchases of military equipment create economic opportunities for Canadians by developing key domestic industrial capabilities to help guide procurement, by promoting export opportunities, and by reforming the current procurement process to improve outcomes.
Takes early action on the recommendations of the Aerospace Review by announcing stable funding of close to $1 billion over five years for the Strategic Aerospace and Defence Initiative, the creation of an Aerospace Technology Development Program, with funding of $110 million over four years starting in 2014–15 and $55 million annually thereafter, and consultations on establishing a National Aerospace Research and Technology Network.
Renews the Federal Economic Development Agency for Southern Ontario (FedDev Ontario) with funding of $920 million over five years to help create job opportunities and encourage economic growth in the region.
Includes $200 million over five years for a new Advanced Manufacturing Fund in Ontario, funded from the renewal of FedDev Ontario.
Expands and extends for one year the temporary Hiring Credit for Small Business, allowing Canadian small business to reinvest $225 million in job creation and economic growth in 2013.
Increases support for small business owners, farmers and fishermen by raising the Lifetime Capital Gains Exemption to $800,000 and indexing the new limit to inflation, at a cost of $110 million over five years.
Provides $92 million over two years to the forestry sector in support of its transformation to higher-value activities and its expansion into new export markets.
Announces economic and security initiatives that will implement Canadas commitments under the Canada-United States Beyond the Border Action Plan, with a view to ensuring the secure and efficient flow of legitimate goods and people across the border.
Enhances Canadas foreign trade zone policies and programs by reducing red tape, cutting costs, improving access to existing programs, and promoting Canadas foreign trade zone advantage. This will support Canadian manufacturers and business, building on the success of the Governments gateways and corridors approach to attract foreign investment.
Extends Export Development Canadas domestic activities in order to provide capacity in the domestic credit market to meet the needs of Canadian exporters, in a manner that complements private sector lenders.
Since 2006, governments across Canada have worked together to build modern and efficient public infrastructure in every community. The federal government has supported over 43,000 infrastructure projects across Canada under the $33-billion Building Canada plan launched in 2007, the stimulus phase of the Economic Action Plan launched in Budget 2009, and subsequent investments.
Economic Action Plan 2013 delivers a new Building Canada plan to build roads, bridges, subways, commuter rail and other public infrastructure in cooperation with provinces, territories and municipalities. The new plan supports Canadas infrastructure advantage, a key enabler of economic growth and job creation. New investments will focus on projects that promote productivity and economic growth such as highways and public transit, and are designed to capitalize on innovative approaches, such as public-private partnerships (P3s). Following the success of the 2007 Building Canada plan, Economic Action Plan 2013 includes:
Over $53 billion in investments, including over $47 billion in new funding over 10 years starting in 2014–15, for provincial, territorial and local infrastructure, including:

$32.2 billion through a Community Improvement Fund consisting of an indexed Gas Tax Fund and the incremental Goods and Services Tax Rebate for Municipalities to build roads, public transit, recreational facilities and other community infrastructure across Canada that will improve the quality of life of Canadians.
$14 billion for a new Building Canada Fund to support major economic projects that have a national, regional and local significance.
$1.25 billion for a renewed P3 Canada Fund to continue supporting innovative ways to build infrastructure projects faster and provide better value for Canadian taxpayers through public-private partnerships.
$6 billion in federal support to provinces, territories and municipalities under current infrastructure programs in 2014–15 and beyond.
In addition, over the next 10 years, the Government will make significant investments in First Nations infrastructure and in federal assets.
Approximately $7 billion over 10 years in First Nations infrastructure such as roads, bridges, energy systems and other First Nations infrastructure priorities.
Over $10 billion in investments in federal infrastructure assets, including bridges, fishing harbours, ports, military bases and departmental accommodations across the country.
Overall, the new Building Canada plan, combined with other federal infrastructure investments will result in $70 billion in federal infrastructure funding over 10 years, the largest federal investment in job-creating infrastructure in Canadian history.
Canadas ongoing economic success will depend on our ability to create and sustain high-paying, value-added jobs. As the global economy becomes more competitive, Canada must continue to generate the highly skilled individuals and new ideas that will help our businesses innovate, secure new markets and create well-paying jobs. By supporting advanced research and technology, the Government is choosing to invest in the current and future prosperity of Canadians. To ensure that Canada remains a global research and innovation leader, Economic Action Plan 2013:
Announces $225 million to support advanced research infrastructure and the Canada Foundation for Innovations long-term operations.
Provides $165 million in multi-year support for genomics research through Genome Canada, including new large-scale research competitions and participation by Canadian researchers in national and international partnership initiatives.
Advances the Governments Venture Capital Action Plan, by providing $60 million over five years to expand the services of business incubators and accelerators, establishing new Entrepreneur Awards to recognize excellence in entrepreneurship, and supporting young entrepreneurs with new resources of $18 million over two years through the Canadian Youth Business Foundation.
Provides an additional $37 million annually to the granting councils in support of research partnerships with industry to create and deploy new technologies, products and services into the marketplace.
Provides $20 million over three years to help small and medium-sized enterprises access research and business development services.
Provides $325 million over eight years to Sustainable Development Technology Canada to support the development and demonstration of new clean technologies, which can save businesses money, create high-paying jobs and drive innovation.
Canadas Economic Action Plan recognizes that the health of the Canadian economy ultimately depends on providing opportunities for a high quality of life for all Canadians. To this end, the Government has made significant investments to support families and communities. To help sustain a higher quality of life for hard-working Canadian families, Economic Action Plan 2013 proposes to:
Promote adoption by enhancing the Adoption Expense Tax Credit to better recognize the costs of adopting a child.
Provide $76 million in annual tariff relief on baby clothing and sports and athletic equipment to help reduce the gap in retail prices that Canadian consumers pay compared to those in the U.S.
Further bolster Canadas world-class, stable financial sector through the development of a comprehensive financial consumer code.
Invest $119 million per year over five years for the Homelessness Partnering Strategy using a Housing First approach.
Renew the Investment in Affordable Housing, with $253 million per year over five years, to work with provinces and territories to help Canadians in need find and keep affordable housing.
Provide $100 million over two years to support the construction of housing in Nunavut.
Increase the Endowment Incentive component of the Canada Cultural Investment Fund to a maximum benefit of $15 million over the life of the program.
Introduce a new, temporary First-Time Donors Super Credit for first-time claimants of the Charitable Donations Tax Credit to encourage all young Canadians to donate to charity.
Provide $20 million in 2013–14 for the Nature Conservancy of Canada to continue to conserve ecologically sensitive land. Each federal dollar will be matched by two dollars in funding from other sources.
Invest $54 million over two years to continue to ensure that specific claims are addressed promptly, providing resolution to First Nations claimants.
Invest $9 million over two years for the expansion of the First Nations Land Management Regime to create further opportunities for economic development on reserve.
Improve the safety and quality of life in Aboriginal communities by providing funding for supplementary policing services, the Aboriginal Justice Strategy and the Family Violence Prevention Program.
Enhance health services for First Nations and Inuit, including mental health services.
In an uncertain global economic environment, the most important contribution the Government can make to bolster confidence and growth is to maintain a sound fiscal position. Responsible fiscal management ensures the sustainability of public services and low tax rates for future generations, while providing room to manoeuvre in the event of adverse developments outside our borders. The Government is committed to returning to balanced budgets by 2015–16 and will focus on what it can control in order to achieve this result. Specifically, the Government will continue to restrain the growth of direct program spending without cutting transfers to persons, including those for seniors, children and the unemployed, or transfers to other levels of government in support of health care and social services. As well, the Government will continue to enhance the integrity and fairness of the tax system and will not raise taxes.
Economic Action Plan 2013 follows up on the Economic Action Plan 2012 commitment to examine new ways to standardize, consolidate and transform the way the Government does business to improve services and achieve efficiencies. It announces a number of common sense improvements to government administration and service delivery, such as increasing the use of telepresence and other remote meeting solutions, expanding access to e-publications, streamlining and consolidating the Governments web presence, and standardizing and consolidating government procurement of information technology devices.
Canadians depend on a professional, modern and high-performing public service. Since Budget 2010, the Government has taken steps to ensure that overall employee compensation is affordable and aligned with what is offered by other public and private sector employers. Economic Action Plan 2013 announces the Governments intention to work with public sector bargaining agents to identify further steps toward this objective and to examine its human resources management practices and institutions in a number of areas.
To help keep taxes low and enhance the integrity of the tax system, Economic Action Plan 2013 proposes a number of measures to close tax loopholes, address aggressive tax planning, clarify tax rules, reduce international aggressive tax avoidance and tax evasion, and improve tax fairness.
As a result of these measures to ensure the sustainability of public finances, the deficit is projected to fall in each year of the forecast horizon, with the Government returning to a balanced budget in 2015–16 (Chart 1.2).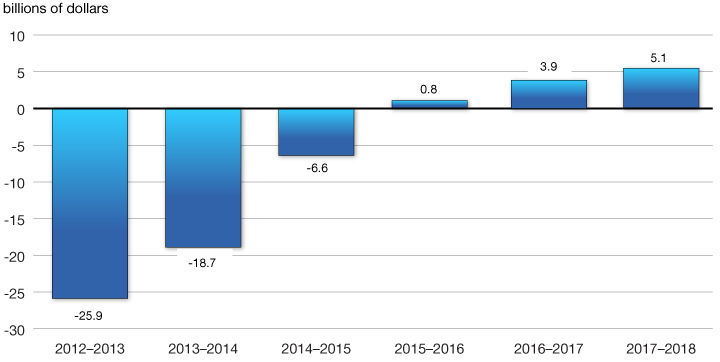 By 2017–18, both program expenses as a share of gross domestic product (GDP) and the net debt-to-GDP ratio will fall to pre-recession levels. The Governments commitment to sound public finances will ensure that Canada will maintain by far the lowest net debt burden among G-7 countries.
Since 2006, the Government has designed and implemented policies aimed at driving the economy to its full potential for the benefit of all Canadians. Today, Canada is universally recognized for its resilience through the global recession and recovery, its low-tax environment, its highly educated and skilled labour force, its natural resource endowments, and a financial sector that is the envy of the world. But we cannot become complacent. In a fast-changing, competitive global economy, Canadians must continually aim higher to avoid falling behind.
Together, the initiatives in Economic Action Plan 2013 build on previous actions by the Government to reinforce the fundamental strengths of the Canadian economy. It sets a path to return to balanced budgets by 2015–16, which will strengthen Canadas fiscal advantage and spur long-term jobs and growth. By staying the course, the Government of Canada will continue to promote economic growth, job creation and long-term prosperity for all Canadians.