Archived - A Team Canada Approach to Fighting COVID-19: Supporting Provinces, Territories, Municipalities and Indigenous Communities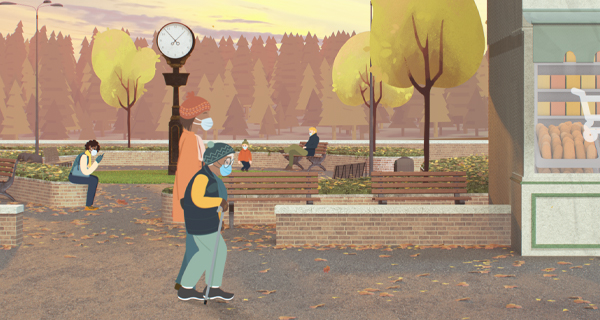 As Canada faces the second wave of COVID-19, the Government of Canada continues to work with provinces, territories, municipalities and Indigenous communities to ensure Canadians stay safe and healthy. This includes securing vaccines, scaling up testing and tracing, and ensuring we are able to battle the virus. This is a Team Canada effort. The federal government has provided more than 8 out of every 10 dollars spent in Canada to fight COVID-19 and support Canadians. To date, direct support made available to provinces and territories totals over $24 billion.
The Safe Restart Agreement
The $19.9 billion Safe Restart Agreement, as adopted by Canada's First Ministers, was designed to deal with the most pressing issues facing Canadians' health and safety. In particular, it focused on increasing testing and contact tracing capacity across provinces and territories. It has also assisted with the procurement of personal protective equipment (PPE) to help our essential workers, and protect the most vulnerable, like seniors.
As a result of the Safe Restart Agreement alone, federal health support for provinces and territories is up by over 23 per cent relative to the previous fiscal year's Canada Health Transfer amounts.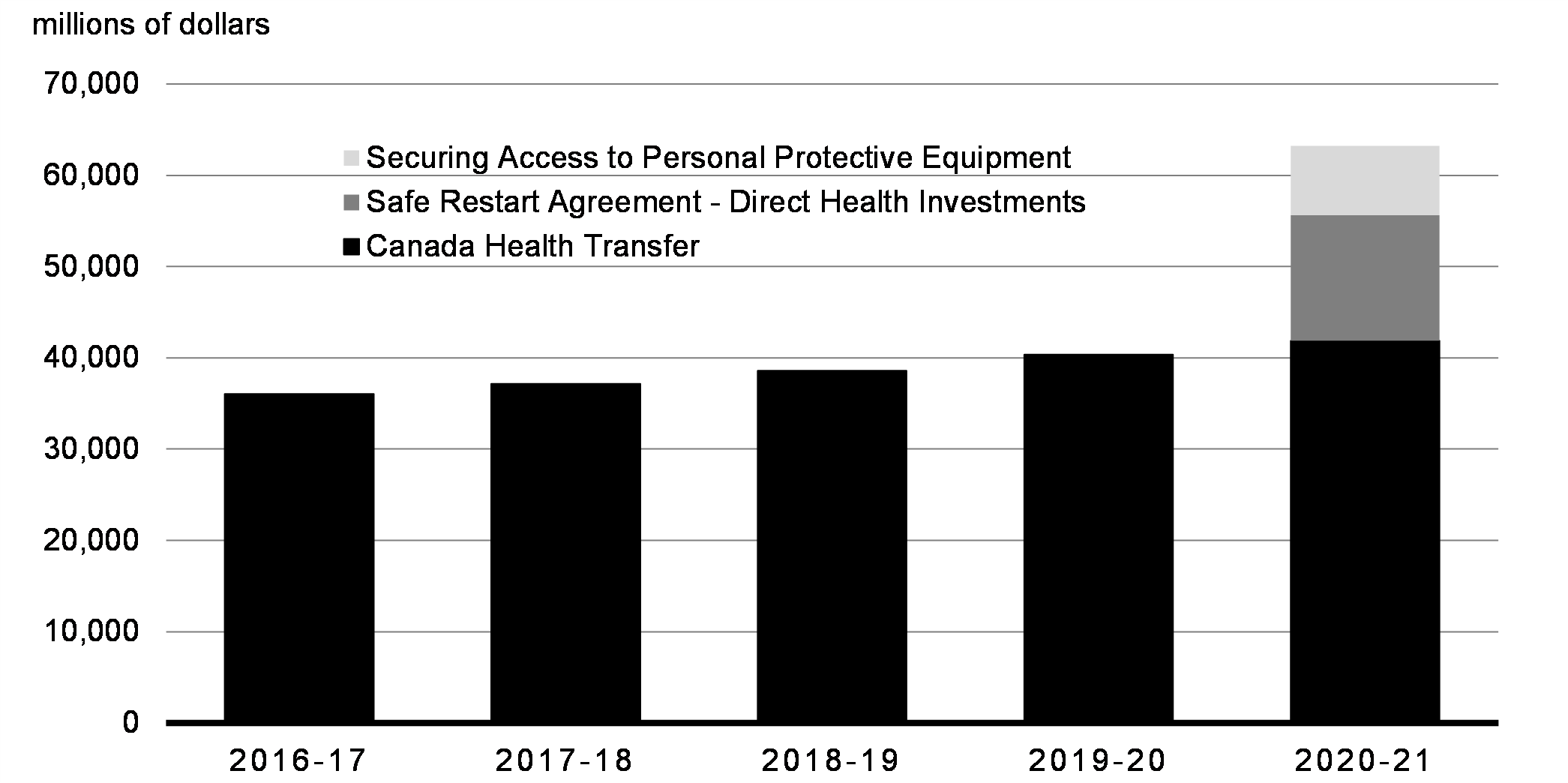 Municipalities
Municipalities provide front-line services and need support to put in place appropriate precautions to minimize the spread of COVID-19 and manage public spaces and critical services, like public transit. Through the Safe Restart Agreement, the Government of Canada is contributing $2 billion to support municipalities with COVID-19 operating costs with an additional contribution of $2.4 billion for public transit. Provincial and territorial governments will cost-match federal supports with investments made this fiscal year.
More information on the Safe Restart Agreement.
Helping Provinces and Territories Protect Long-term Care and Other Supportive Care Facilities
The devastating COVID-19 outbreaks in long-term care homes have highlighted the gaps in standards and care for our most vulnerable. Tragically, a large majority of COVID-19 deaths have occurred in long-term care facilities and seniors residences. In the spring, the women and men of the Canadian Armed Forces were deployed to 54 affected long-term care facilities across Quebec and Ontario.
Through the Safe Restart Agreement, the federal government invested $740 million to help provinces and territories address immediate needs of vulnerable populations, including those in long-term care. The federal government has helped provinces and territories to fight the outbreaks in long-term care facilities by providing PPE, contact tracing and over $39 million in funding for direct assistance through the Canadian Red Cross.
New National Standards
Our seniors deserve to be safe, respected, and live in dignity. In order to make sure our seniors and those in care live in safe and dignified conditions, the federal government will work with provinces and territories to set new, national standards for long-term care.
Proposed Investments
Up to $1 billion to establish a Safe Long-term Care Fund to help provinces and territories protect people in long-term care and support infection prevention and control.

$6.4 million over two years, starting in 2020-21, to the Canadian Foundation for Health Improvement to expand its LTC+ initiative, which allows long-term care facilities and seniors residences to register via an online portal and submit a self-assessment of eligibility for coaching and seed funding to help address gaps.

$1 million to engage with third parties to help identify resources to conduct readiness assessments in long-term care facilities and facilitate training on infection prevention and control.

$2.4 million over three years to expand Health Canada's capacity to support these initiatives and undertake policy work related to commitments made in the Speech from the Throne.
Support for Schools
Building on the Safe Restart Agreement, the federal government is providing up to $2 billion to provinces and territories through the Safe Return to Class Fund. The Fund offers the complementary support provinces and territories need, as they work alongside local school boards to ensure the safety of students and staff members throughout the school year. For example, the Fund is helping provinces and territories invest in adapted learning spaces, improving air ventilation, increasing hand sanitation and hygiene, and purchasing of personal protective equipment and cleaning supplies.
The return of Canadian children to school has seen COVID-19 transmission remaining low in most school and child care settings.
Investments to date
Up to $2 billion to provinces and territories through the Safe Return to Class Fund. Funding by province and territory is allocated based on the number of children aged between 4 and 18 years old, with a $2 million base amount provided to each jurisdiction.

$112 million for First Nations to support a safe return to schools on reserve.
Towards a Canada-wide Early Learning and Child Care System
Investing in accessible, high-quality child care is not only good for families, it makes good economic sense. It gives children a good start in life and gives parents, especially mothers, the support they need to maintain good jobs and provide for their families. In September, the number of mothers who worked less than half of their usual hours for reasons most likely related to COVID-19 was 70 per cent higher than in February, compared with 24 per cent among fathers.
Child care providers have been particularly hard-hit by the COVID-19 pandemic. The initial lockdown meant the closure of most child care operations across the country. Even as the economy reopened, the implementation of new public health practices and the uneven return of children in care resulted in financial challenges for many providers, and made more precarious the work of over 200,000 early childhood educators and child care workers across the country.
Now is the time to make long-term, sustained investments so that every Canadian family has access to high-quality, affordable and inclusive child care. As a first step, this Fall Economic Statement is announcing key early investments to lay the groundwork for a Canada-wide child care system, and the federal government's commitment to working in partnership with provinces, territories and Indigenous peoples.
Proposed Investments
$20 million over five years, starting in 2021-22, with $4.3 million per year ongoing for a Federal Secretariat on Early Learning and Child Care.

$70 million over 5 years, starting in 2021-22, and $15 million ongoing to sustain the existing federal Indigenous Early Learning and Child Care Secretariat, build Indigenous capacity and support Indigenous participation in the development of a Canada-wide system.

Sustain the progress made in collaboration with provinces, territories and Indigenous partners to date, by making Budget 2017 funding permanent at 2027-28 levels – $870 million per year and ongoing starting in 2028-29. Of this amount, $210 million would support Indigenous early learning and child care programming.

$420 million in 2021-22 for provinces and territories to support the attraction and retention of early childhood educators, such as through grants and bursaries for students studying early childhood education.

$75 million in 2021-22 to improve the quality and accessibility of Indigenous child care programs and help retain Indigenous early childhood educators.
Business Support for a Strong Public Health Response
There is no choice between our health and economy. To see people through this crisis, federal government measures support businesses so that jurisdictions across Canada can make the best public health decisions. Programs like the Canada Emergency Wage Subsidy have helped protect over 3.9 million jobs, while the Canada Emergency Business Account (CEBA) has helped over 790,000 small businesses and not-for-profits weather this storm. The new Canada Emergency Rent Subsidy will help affected businesses pay their rent and mortgage interest, and the Lockdown Support will make sure that eligible businesses that have to significantly restrict their activities as a result of a public health order get extra support to cover their eligible expenses.
Proposed Investments
The government is proposing to increase the maximum wage subsidy rate to 75 per cent for the period beginning December 20, 2020 and to extend this rate until March 13, 2021.

To provide greater certainty to businesses and other organizations, the government is proposing to extend the current subsidy rates of the Canada Emergency Rent Subsidy for an additional three periods. This means a base subsidy rate of up to 65 per cent will be available on eligible expenses until March 13, 2021. With the Lockdown Support of 25 per cent also being extended, businesses may be eligible for a subsidy of up to 90 per cent of their eligible expenses.

The CEBA program will soon be expanded, allowing qualifying businesses to access an additional interest-free $20,000 loan, in situations where there is need. Half of this additional amount, up to $10,000, would be forgivable if the loan is repaid by December 31, 2022.

The deadline to apply for a CEBA loan has been extended to March 31, 2021.
Regional Relief and Recovery Fund
Businesses, workers, and communities in every corner of Canada have been impacted by COVID-19. To help support those businesses unable to access other federal pandemic support programs, the government created the Regional Relief and Recovery Fund, providing significant funding through Canada's Regional Development Agencies.
A New Approach to Regional Development in Western Canada
To better tailor support to businesses in Western Canada, in recognition of its diverse regional economies, the government is proposing to create separate Regional Development Agencies (RDAs) for British Columbia and the Prairies, adding a new, seventh RDA for British Columbia. Additional detail and investments to follow.
Proposed Investments
A top-up of up to $500 million, on a cash basis, to Regional Development Agencies and the Community Futures Network of Canada, bringing total funding to over $2.0 billion in this fund.

The government will earmark a minimum of 25 per cent of all the Fund's resources to support local tourism businesses, representing $500 million in program support through June 2021. This is in addition to the new Highly Affected Sectors Credit Availability Program.

Up to $3 million to the Canadian Northern Economic Development Agency for foundational economic development projects that will support small businesses' growth in Canada's territories.
Support for Indigenous and Northern Communities
Indigenous and northern communities have worked diligently to control the spread of the virus in their communities. The government recognizes that Indigenous and northern communities face unique challenges in responding to the pandemic, including a higher incidence of pre-existing health vulnerabilities, difficulties in accessing healthy food and health services and overcrowded living conditions that make it difficult to physically distance. The Government of Canada has provided support to communities through the Indigenous Community Support Fund. Many northern communities also face challenges responding to the pandemic.
Proposed Investments
$380 million in 2020-21 for the Indigenous Community Support Fund to help ensure that the needs of Indigenous communities will continue to be met during the second wave, bringing total investments towards the fund to over $1 billion since the beginning of the pandemic.

$64.7 million in 2020-21 in direct support to the governments of Yukon, Northwest Territories and Nunavut in further support of territorial COVID-19 pandemic response.

$332.8 million in 2021-22 to support First Nations, Inuit and Métis communities to offset declines in own-source revenues and to help ensure that Indigenous communities can continue to provide the same level of core community programs and services to their members.

Over $900 million to support the continued health response in Indigenous communities and to help ensure that First Nations, Inuit and Métis Nation communities can manage and control the virus during the second wave, as well as the influenza season.
Significant Support to Provinces and Territories
The government has already announced direct support for provinces and territories, with over $24 billion made available to date. This is on top of the funding regularly provided to provinces and territories through the major transfers and bilateral agreements, which totals over $85 billion in 2020-21. Additionally, unprecedented federal support for the economy is providing benefit to provincial and territorial tax bases, estimated to raise provincial-territorial tax revenues by approximately $17 billion.
Modernizing the Fiscal Stabilization Program
The federal government intends to introduce legislative and regulatory amendments to reform the Fiscal Stabilization Program to provide a more effective backstop to provinces that face an extraordinary drop in revenues. This is expected to result in billions in additional support to provinces for 2020-21, based on the current provincial outlook.
Proposed Investments
Index the maximum payment of $60 per capita, which was set in 1987, to total Canadian economic growth per person since that time, nearly tripling it to $170 per person in 2019-2020 and 2020-21. The higher cap will apply to 2019-20 Stabilization claims and onward.

Make technical changes to modernize and simplify the program. Technical changes will apply to 2021-22 Stabilization claims and onward.
More Information
Report a problem on this page
Date modified: