Archived - Building Back Better: A Plan to Fight the COVID-19 Recession
Working towards a recovery that is inclusive, sustainable, and creates good jobs for Canadians.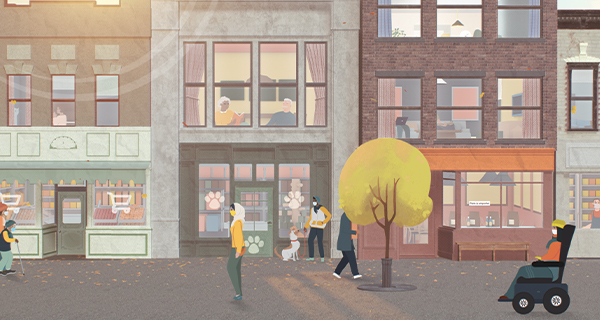 The government's rapid and comprehensive supports have provided an unprecedented $407 billion – nearly 19 per cent of Canada's gross domestic product (GDP) – in overall support to keep Canadians and Canadian businesses afloat, including $270 billion – or over 12 per cent of GDP – in direct support measures. Significant federal government support throughout the pandemic is working well to put Canada in a stronger position for a robust recovery, especially when compared to international peers.
To ensure a robust and resilient recovery, the government is developing a plan to help Canada build back better, by preparing to invest up to between $70 billion and $100 billion over the next three fiscal years – roughly valued at between 3 to 4 per cent of GDP. The stimulus will help us grow out of this recession towards an economy that is greener, more innovative, more inclusive and more competitive. Measures the government takes now are a down payment on Canada's recovery plan.
An Inclusive Recovery
Inequality makes our economy less resilient. Canada's recovery must ensure that young people have opportunities to gain skills and work experience, that all Canadians have a roof over their heads, that women can participate fully in our economy, that lost opportunities for racialized Canadians and Indigenous peoples are restored and that all communities have the 21st century infrastructure people need. This approach also means supporting Canadians with disabilities, addressing gender-based violence and ensuring that families have access to affordable child care.
Creating One Million Jobs
The government is focused on measures to restore employment to previous levels and promote good, full time, middle class jobs. Importantly, the government will invest in skills and training opportunities for those most affected by job losses and help diversify sectors to include more women and other underrepresented groups so everyone has a fair chance to work and succeed.
Investing in Training and Skills
To help build a stronger workforce and prepare people for good jobs, the government has provided a one-year enhancement to the Workforce Development Agreements with provinces and territories to offer Canadians the skills training and employment support they need. The government also proposes to bolster training support for those hardest hit by the pandemic, including women, and racialized Canadians, Indigenous Peoples, persons with disabilities and newcomers to Canada.
An Action Plan for Women in the Economy
The government is committed to ensuring that its job plan addresses the unique characteristics of this crisis and the disproportionate impact that COVID-19 has had on women. The government is announcing the creation of a task force of diverse experts to help develop this plan. The government will bring the task force together in the coming weeks to begin the work of advising the Deputy Prime Minister and Minister of Finance on policies and measures to be included in the government's stimulus plan.
Early Learning and Child Care System
Investing in accessible, high-quality child care is not only good for families, it makes good economic sense. It gives children a good start in life and gives parents, especially mothers, the support they need to maintain good jobs and provide for their families. In September, the number of mothers who worked less than half of their usual hours for reasons most likely related to COVID-19 was 70 per cent higher than in February, compared with 24 per cent among fathers.
Child care providers have been particularly hard-hit by the COVID-19 pandemic. The initial lockdown meant the closure of most child care operations across the country. Even as the economy reopened, the implementation of new public health practices and the uneven return of children in care resulted in financial challenges for many providers, and made more precarious the work of over 200,000 early childhood educators and child care workers across the country.
Now is the time to make long-term, sustained investments so that every Canadian family has access to high-quality, affordable and inclusive child care. As a first step, this Fall Economic Statement is announcing key early investments to lay the groundwork for a Canada-wide child care system, and the federal government's commitment to working in partnership with provinces, territories and Indigenous peoples.
Proposed Investments
$20 million over five years, starting in 2021-22, with $4.3 million per year ongoing for a Federal Secretariat on Early Learning and Child Care.

$70 million over 5 years, starting in 2021-22, and $15 million ongoing to sustain the existing federal Indigenous Early Learning and Child Care Secretariat, build Indigenous capacity and support Indigenous participation in the development of a Canada-wide system.

Sustain the progress made in collaboration with provinces, territories and Indigenous partners to date, by making Budget 2017 funding permanent at 2027-28 levels – $870 million per year and ongoing starting in 2028-29. Of this amount, $210 million would support Indigenous early learning and child care programming.

$420 million in 2021-22 for provinces and territories to support the attraction and retention of early childhood educators, such as through grants and bursaries for students studying early childhood education.

$75 million in 2021-22 to improve the quality and accessibility of Indigenous child care programs and help retain Indigenous early childhood educators.
Immediate Support for Families with Children
Many families have been struggling with a wide range of expenses during the pandemic – from providing care to buying tools for at-home learning like books and technology. This includes costs for healthy food, deliveries of baby supplies and temporary alternatives to their regular child care arrangements.
Proposed Investments
Families entitled to the Canada Child Benefit (CCB) will receive additional temporary support of up to $1,200 for each child under the age of 6. This support represents an increase of almost 20 per cent over the maximum annual CCB payment. Families with net income below $120,000 would receive four tax-free payments of $300, with the first payment being made shortly after the enabling legislation is passed, and subsequent payments in the months of April, July, and October 2021.

Families entitled to the CCB with net income above $120,000 would receive a tax-free payment of $150 at each of these times, for a total benefit of $600. This temporary assistance would benefit about 1.6 million families and about 2.1 million children.
Fighting Systemic Racism and Building Communities
Systemic racism and discrimination is a painful lived reality for Black Canadians, racialized Canadians and Indigenous peoples. Data show that racialized Canadians have experienced many of the worst health and economic impacts of the pandemic. Through this Fall Economic Statement, the government is reiterating its commitment to fight racism in all its forms.
Black Entrepreneurship Program
On September 9, the government, in partnership with Canadian financial institutions, announced an investment of up to $221 million – including up to $93 million from the Government of Canada over the next four years – to launch Canada's first-ever Black Entrepreneurship Program. This will help ensure equitable access to support and opportunities for Black business owners and entrepreneurs. It will help thousands of Black business owners and entrepreneurs recover from this crisis and grow their businesses.
Other Proposed Investments
Delivering on the Speech from the Throne, the government will be launching a pilot program to open bidding opportunities for Black owned/operated businesses, building off the successful Procurement Strategy for Aboriginal Business.

$33 million over 3 years to support the 50‑30 Challenge, in collaboration with diversity-seeking groups and business stakeholders, to increase diverse representation on corporate boards and in senior management positions.

$6.6 million to support a task force on modernizing the Employment Equity Act and $3.6 million on an ongoing basis to expand the Workplace Opportunities and Barriers to Equity Program, to promote projects that help federally regulated workplaces become more representative of Canada's diversity.

$12 million over 3 years towards a dedicated Centre for Diversity in the federal public service at the Treasury Board Secretariat, which will accelerate and increase the government's efforts to achieve a representative and inclusive public service, including implementing a government-wide strategy and action plan with specific actions necessary to accelerate progress on diversity and inclusion.

$50 million over 2 years to expand Canadian Heritage's Community Support, Multiculturalism, and Anti-Racism Initiatives Program and its Anti-Racism Action Program to deliver on the government's anti-racism objectives, including by expanding the Anti-Racism Secretariat.

$13 million over 5 years and $2.6 million ongoing to protect communities at risk of hate-motivated crimes, by providing not-for-profit organizations, such as places of worship, schools and community centres, with funding to enhance their security infrastructure.

$6.6 million over 5 years and $1.6 million ongoing to support the implementation of Impact of Race and Culture Assessments, which allow sentencing judges to consider the disadvantages and systemic racism that contributed to racialized Canadians' interaction with the criminal justice system.

$28.6 million over 5 years to support Community Justice Centres (CJC) pilot projects in British Columbia, Manitoba and Ontario. CJCs bring justice, health and social services together to address the root causes of crime, divert individuals accused of non-violent offences away from incarceration and connect them with social supports.
Creating Opportunities for Youth
Young people continue to suffer disproportionately due to COVID-19. The government is working to ensure the pandemic does not derail their futures.
Proposed Investments
$447.5 million in 2021-22 to increase the number of job placements supported through Canada Summer Jobs to approximately 120,000 for 2021-22 – an increase of 40,000 from 2020-21 levels.

$575.3 million over the next 2 years for the Youth Employment and Skills Strategy to provide approximately 45,300 job placements for young people.

Eliminate the interest on repayment of the federal portion of the Canada Student Loans and Canada Apprentice Loans for 2021-22 to bring $329.4 million in relief to up to 1.4 million Canadians who are looking for work or otherwise in the early stages of their careers.
Housing and Homelessness
COVID-19 has exacerbated existing housing affordability and homelessness, and called attention to the public health risks of substandard and crowded living quarters. Without urgent action by the Government of Canada, the COVID-19 pandemic could lead to a dramatic increase in homelessness.
Proposed Investments
Expanding the First-Time Home Buyer Incentive to enhance eligibility in the higher priced markets of Toronto, Vancouver and Victoria by raising the eligible buyer's income threshold from $120,000 to $150,000. Additionally, eligible buyers will be able to buy a house priced at up to 4.5 times their household income, an increase from the current limit of 4 times household income. This expansion will raise the maximum house price, with a minimum down payment, available to first-time home buyers in these cities from about $505,000, under the current program parameters, to about $722,000.
A Competitive, Green Economy
The government has committed to putting climate action at the heart of its plan to create a million jobs. These will be good middle class jobs for today and for the decades to come. The investments made in Fall Economic Statement 2020 will lay the foundation for a green recovery that will create opportunities for all Canadians.
Helping Canadians Take Climate Action
By supporting efforts to make homes greener and more energy efficient, Canadians can reduce their carbon footprint and lower their energy bills. Investments in building ZEV charging stations in the places Canadians live, work and travel will help accelerate Canadians' use of zero-emission vehicles.
Proposed Investments
$2.6 billion over 7 years to provide up to 700,000 grants of up to $5,000 to help homeowners make energy-efficient improvements to their homes, up to 1 million free EnerGuide energy assessments, and support to recruit and train EnerGuide energy auditors to meet increased demand.

Build on current investments in zero-emission vehicles infrastructure by providing an additional $150 million over 3 years to help ensure that charging and refuelling stations are available and conveniently located where and when they are needed.

$25 million to help bring clean power to more communities by investing in predevelopment work for large-scale transmission projects. Building strategic interties will support Canada's coal phase-out.
Nature-based Climate Solutions – 2 Billion Trees
Investing in nature, and its protection, is among the most affordable climate action governments can take. Forests, wetlands and oceans, absorb and store enormous amounts of carbon, which can mitigate the impacts of climate change, and keep our air and water clean.
Proposed Investments
$3.19 billion over 10 years, starting in 2021-22, to Natural Resources Canada to work with the provinces, territories, non-governmental organizations, Indigenous communities, federal landowners, municipalities, and others to plant 2 billion trees to fight climate change, protect forests and create good jobs.

$631 million over 10 years, starting in 2021-22, to Environment and Climate Change Canada to restore degraded ecosystems, protect wildlife, and improve land and resource management practices.

$98.4 million over 10 years, starting in 2021-22, to Agriculture and Agri-Food Canada to establish a new Natural Climate Solutions for Agriculture Fund.
Building the Foundation of a Net-zero Carbon Future
Canada remains strongly committed to meeting and exceeding its Paris targets and achieving net-zero by 2050. The Canadian Net-Zero Emissions Accountability Act was recently introduced in Parliament and is an important part of Canada's work to address the threat of climate change and bring together innovations from across the financial sector, businesses, communities and Canadians themselves. This legislation would legally bind the government to a process to achieve net-zero emissions by 2050 and require the government to report annually on key measures that the federal government, including Crown Corporations, has taken to manage climate-related financial risks and opportunities.
Reconciliation
The Government of Canada remains committed to walking the road of reconciliation. A better, more inclusive Canada will mean building stronger Indigenous communities with access to safe drinking water and community infrastructure. The Government of Canada will continue to make progress towards a co-developed, distinctions-based approach to improving health and well-being outcomes for Indigenous peoples. The Government of Canada will work together with First Nations, Inuit and Métis Nation partners, and all Canadians, to end the national tragedy of violence towards Indigenous women, girls and LGBTQ and two-spirit people.
Proposed Investments
$1.5 billion starting in 2020-21 to accelerate work to lift all long-term drinking water advisories and stabilize funding for water and wastewater infrastructure, including operation and maintenance costs, in First Nations communities.

$25.9 million in 2020-21 to accelerate the government's 10 year commitment to close the infrastructure gap and support the co-development of infrastructure plans with Indigenous partners, which will help pave the way to address critical needs in First Nations, Inuit and Métis Nation communities. To support early action, $1.8 billion over 7 years, starting in 2021‑22 will be directed to support community infrastructure priorities.

$15.6 million over 2 years to support the co-development of distinctions-based health legislation with First Nations, Inuit and Métis Nation partners. This will begin the process of transforming health care delivery in Indigenous communities by ensuring Indigenous control over the development and delivery of health services.

$200.1 million over 5 years, and $300,000 ongoing, to support the construction and operations of mercury treatment centres in the First Nations communities of Asubpeeschoseewagong (Grassy Narrows) and Wabaseemoong.

$781.5 million over 5 years, and $106.3 million ongoing, to combat systemic discrimination against Indigenous peoples, and expand efforts to combat violence against Indigenous women, girls and LGBTQ and two-spirit people. This is part of the government's actions to support a National Action Plan in response to the National Inquiry into Missing and Murdered Indigenous Women and Girls.
More Information
Report a problem on this page
Date modified: