Introduction
" Across the country, a strong and growing middle class is driving economic growth, creating new jobs and more opportunities for people to succeed. While there is more work to be done to ensure that every Canadian has a fair chance at success, real progress has been made."
Three years ago, Canadians made a choice—welcoming a plan that would invest in the economy, strengthen and grow the middle class, and offer real help to people working hard to join the middle class.
In the years since, the Government has continued to focus on the middle class, and on helping to make life more affordable for hard-working Canadian families. 
To help give Canadians more money to save, invest, and help grow the economy, the Government introduced the middle class tax cut.
To help families with the high cost of raising children, the Government introduced the Canada Child Benefit—and then indexed it to keep pace with the rising cost of living, two years ahead of schedule.
The Government's Plan Is Working
Canadians work hard every day to build a better life for themselves and their families. Thanks to their efforts:
Canada's economy is strong and growing. At 3 per cent, Canada had the strongest economic growth of all the Group of Seven (G7) countries in 2017, and is expected to remain among the fastest-growing economies this year and next.
There are more good, well-paying jobs. In the last three years, Canadians have created more than 550,000 new full-time jobs, pushing the unemployment rate to a 40-year low. Employment gains by women have been especially strong, and the share of working-age Canadian women who are employed is now at its highest level in Canada's history.
Canadians' wages are growing. For the average Canadian worker, wage growth is outpacing inflation. If current trends continue, 2018 could mark the strongest year of wage growth in close to a decade.
Consumer confidence is strong. With more money, more jobs, rising wages, and lower taxes, Canadians are feeling confident about their own financial positions. This is reflected in consumer confidence, which remains elevated by historical standards.
Business profits are up. After-tax profitability of businesses in Canada is elevated compared to its historical average, adding to positive conditions for further investment, including in good, well-paying jobs for Canadians.
Canada's strong economy is growing federal revenues faster than expenses. The underlying strength of Canada's economy is fueling growth in federal revenues, contributing to improvements in the budget balance over the forecast horizon.
To help build strong communities and support sustained economic growth, the Government is making historic investments in infrastructure, innovation, science and research, and skills and training—and has secured new and modernized trade agreements that will mean even greater economic opportunities for Canadians in the years ahead.
Three years later, the results are clear: the Government's plan is working.
As a result of the hard work of Canadians, not only is Canada's economy strong and growing, Government revenues are growing faster than expected. Using this revenue growth, the Government has continued to invest in Canadian families, who are now better off.
By this time next year, a typical middle class family of four will receive, on average, about $2,000 more each year, as a result of the middle class tax cut and the Canada Child Benefit. Because of these changes, more families will be able to pay for things like healthy food, back-to-school clothes, and new winter boots for growing kids. They will also be in a better position to invest in their children's future by contributing to Registered Education Savings Plans.
Net Benefit in 2019 After Federal and Provincial Income Taxes, for a Typical Family With Two Children
(Median total income of $110,000 a year)

| Measure | Benefit in 2019 |
| --- | --- |
| Canada Child Benefit | $2,085 |
| Middle class tax cut | $186 |
| Eliminating certain tax credits | -$270 |
| Net Benefit | $2,001 |
According to the Organisation for Economic Co-operation and Development, a two-earner couple (at 100 per cent and 67 per cent of average earnings) with two children kept nearly 85 per cent of their gross income in 2017, once the Canada Child Benefit is factored in. That's the lowest effective rate of taxation in the G7.
For families with two children led by a single parent earning the average wage, or for families with two children where only one parent works at the average wage, the benefits are even greater. When the tax-free Canada Child Benefit and other benefits are added to family income, these families paid effective personal tax rates of less than 2 per cent in 2017. In other words, they kept more than 98 per cent of what they earned and received in benefits. 
Despite this important progress for Canada's middle class, the Government—like Canadians—knows that there is more work to be done.
The Government will continue to work hard to ensure that its commitments to Canadians are upheld. Of the 289 commitments made in 2015, 97 have been completed, and 189 have had actions taken and progress made.
For Canadians, this progress means faster and more reliable public transit, better roads, more affordable housing and post-secondary education, new trade agreements that will create more good, well-paying jobs for the middle class, and a cleaner environment for us all (for more information on results, see Annex 2: Delivering Results for Canadians).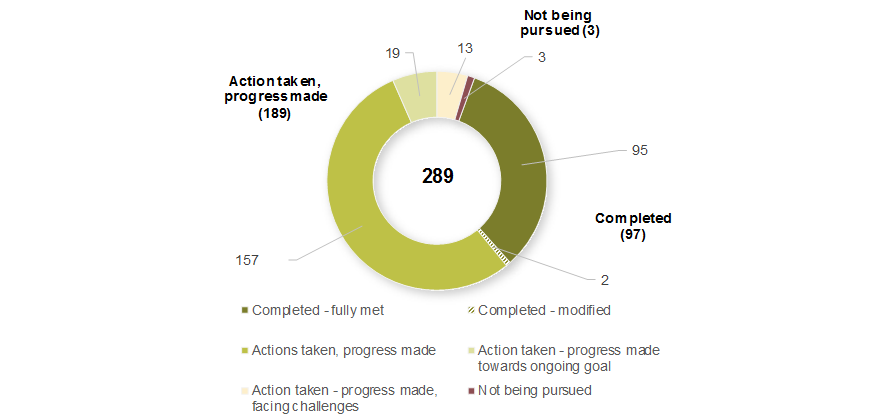 The Government will continue to ensure that investments in people, in communities, and in the economy are balanced by sound fiscal management—maintaining a downward deficit and debt ratio track that will preserve Canada's low-debt advantage for current and future generations.
This Fall Economic Statement, like the Government's other Budgets and Statements, is about investing in Canadians and in the things that matter most to them. It will build on the positive results achieved over the last three years, and set the stage for long-term growth that will benefit everyone.
The Fall Economic Statement's new measures include proposals that will help build a more equal, generous, and sustainable Canada; changes to Canada's tax system to accelerate business investment; a strong commitment to making Canada the most globally connected economy; progress on removing barriers to trade within Canada; and regulatory changes to make it easier for businesses to grow and create jobs.
New investments will support the Government's commitment to building an economy that works for everyone—an economy where the benefits are felt by more and more people, where Canadians have access to high-quality jobs and where Canadian businesses are well-placed to seize new opportunities in an increasingly complex global economy.
Across the country, a strong and growing middle class is driving economic growth, creating new jobs and more opportunities for everyone to succeed. Inspired by the continued hard work of Canadians, the Government is taking the next steps in building an economy that works for everyone, by investing in middle class jobs.
Canada's Commitment to Equality
To help achieve the Government's goal of greater equality, all measures and investments included in the 2018 Fall Economic Statement were informed by Gender-based Analysis Plus (GBA+) and the Government's Gender Results Framework.
As announced in Budget 2018, GBA+ ensures that the impacts of individual proposals on different groups of people are understood, supporting better policy-making, and decision-making, while the Gender Results Framework includes goals and indicators to help set priorities, guide decisions and measure Canada's progress in achieving greater gender equality.
The Government is committed to ensuring that all Canadians have a real and fair chance to succeed, regardless of identity factors such as sex, gender, race, ethnicity, age, ability, or sexual orientation.
Date modified:
Report a problem on this page