Annex 2 - Delivering Results for Canadians
In November 2015, the Government set out to achieve 289 commitments as set out in mandate letters sent from the Prime Minister to each Cabinet Minister, each of which was focused on delivering real results for Canadians. These commitments have been openly shared with Canadians, and their progress has been tracked regularly and reported to Canadians through the website.
Over the last three years, the Government has worked hard to take action and ensure progress against each of its commitments, making real change in the lives of middle class Canadians and those working hard to join it. Of the commitments made in 2015, ninety-seven have been successfully completed, including, for example, the new Canada Child Benefit and the middle class tax cut, while 189 more have had action taken and progress made.
Building on its original commitments in 2015, the Government has also released a number of new commitments, bringing the total made since 2015 to 427. This Fall Economic Statement will enable further progress on 33 of the 427 commitments. A full breakdown of progress against each of these commitments is included below.
Further information on the specific actions taken on each of the 427 commitments can be found by visiting the website.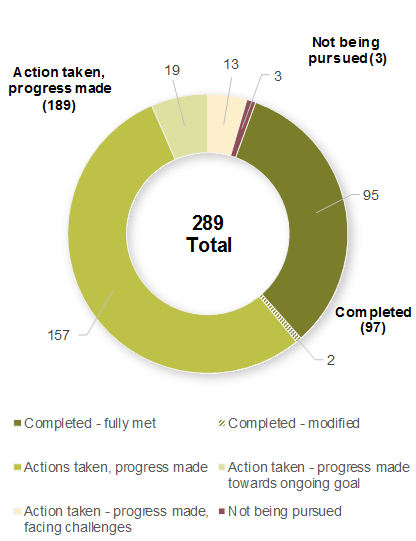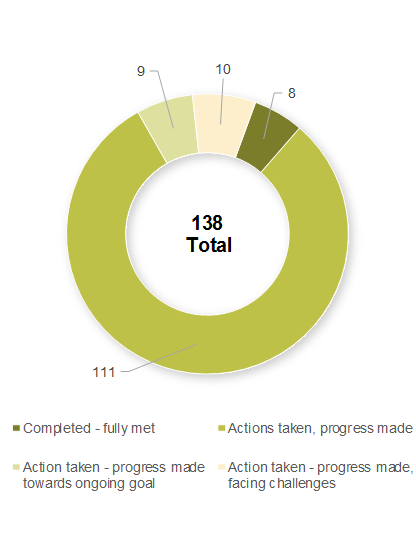 Table 2.1
List of November 2015 Mandate Letter Commitments by Priority Area

| Priority | Commitment | Status | Accountable Minister(s) |
| --- | --- | --- | --- |
| Strong Middle Class | Crack down on tax evaders. | Actions taken, progress made | Minister of National Revenue |
| Strong Middle Class | Increase funding to "Young Canada Works" to help prepare the next generation working in the heritage sector. | Completed - fully met | Minister of Canadian Heritage and Multiculturalism |
| Strong Middle Class | Balance the budget in 2019/20. | Actions taken, progress made, facing challenges | Minister of Finance |
| Strong Middle Class | Implement a modern Fair Wages Policy. | Actions taken, progress made | Minister of Public Services and Procurement and Accessibility; Minister of Employment, Workforce Development and Labour |
| Strong Middle Class | Repeal the recent changes made to the Employment Insurance (EI) system that have been punitive to unemployed workers. | Completed - fully met | Minister of Families, Children and Social Development |
| Strong Middle Class | Reduce Employment Insurance (EI) premiums. | Completed - fully met | Minister of Families, Children and Social Development |
| Strong Middle Class | Improve the Employment Insurance (EI) system that currently leaves too many unemployed workers with no safety net. | Actions taken, progress made | Minister of Families, Children and Social Development |
| Strong Middle Class | Eliminate Employment Insurance (EI) discrimination against immigrants, younger workers and parents re-entering the workforce. | Completed - fully met | Minister of Families, Children and Social Development |
| Strong Middle Class | Reduce the wait time for new Employment Insurance (EI) recipients from two weeks to one week. | Completed - fully met | Minister of Families, Children and Social Development |
| Strong Middle Class | Improve Canadians' access to good quality job training. | Actions taken, progress made | Minister of Employment, Workforce Development and Labour |
| Strong Middle Class | Rationalize and expand the intergovernmental agreements that support skills training. | Actions taken, progress made | Minister of Employment, Workforce Development and Labour; Minister of Families, Children and Social Development |
| Strong Middle Class | Develop a framework to fund training facilities delivered in partnership with labour unions. | Actions taken, progress made | Minister of Employment, Workforce Development and Labour |
| Strong Middle Class | Change the Repayment Assistance Plan so that graduates are required to repay only once they earn at least $25,000 per year. | Completed - fully met | Minister of Employment, Workforce Development and Labour |
| Strong Middle Class | Increase take up rates of Registered Education Savings Plans (RESPs) and Canada Learning Bonds by making registration easier. | Actions taken, progress made | Minister of Employment, Workforce Development and Labour |
| Strong Middle Class | Collaborate with provinces and territories on the Canada Student Loans Program, and compensate provinces and territories that do not participate in it. | Completed - fully met | Minister of Employment, Workforce Development and Labour |
| Strong Middle Class | Increase the number of good quality, permanent jobs for younger workers. | Actions taken, progress made toward ongoing goal | Minister of Employment, Workforce Development and Labour |
| Strong Middle Class | Increase our investment in the Youth Employment Strategy and improve the strategy's impact. | Actions taken, progress made | Minister of Employment, Workforce Development and Labour |
| Strong Middle Class | Develop or expand Pre-Apprenticeship Training Programs. | Actions taken, progress made, facing challenges | Minister of Employment, Workforce Development and Labour |
| Strong Middle Class | Amend the Canada Labour Code to allow workers to formally request flexible work arrangements. | Completed - fully met | Minister of Employment, Workforce Development and Labour |
| Strong Middle Class | Increase the Guaranteed Income Supplement (GIS) by 10%. | Completed - fully met | Minister of Families, Children and Social Development |
| Strong Middle Class | Develop and implement a Poverty Reduction Strategy. | Actions taken, progress made | Minister of Families, Children and Social Development; Minister of Employment, Workforce Development and Labour |
| Strong Middle Class | Create a housing strategy. | Actions taken, progress made | Minister of Families, Children and Social Development; Minister of Infrastructure and Communities |
| Strong Middle Class | Implement the middle class tax cut. | Completed - fully met | Minister of Finance |
| Strong Middle Class | Cut taxes for small businesses. | Actions taken, progress made (Fall Economic Statement) | Minister of Finance; Minister of Small Business and Export Promotion |
| Strong Middle Class | Cancel income splitting, while retaining income splitting of pensions for seniors. | Completed - fully met | Minister of Finance |
| Strong Middle Class | Enhance the Canada Pension Plan to provide more income security to retired Canadians. | Completed - fully met | Minister of Finance |
| Strong Middle Class | Restore the tax credit for labour-sponsored funds. | Completed - fully met | Minister of Finance |
| Strong Middle Class | Introduce a tax benefit to help teachers and early childhood educators with the cost of school supplies. | Completed - fully met | Minister of Finance |
| Strong Middle Class | Enhance the Northern Residents Deduction to help with the high cost of living. | Completed - fully met | Minister of Finance |
| Strong Middle Class | Repeal the Federal Balanced Budget Act. | Completed - fully met | Minister of Finance |
| Strong Middle Class | Conduct a review of tax expenditures. | Completed - fully met | President of the Treasury Board and Minister of Digital Government; Minister of Finance |
| Strong Middle Class | Develop and implement a Youth Service Program. | Actions taken, progress made | Minister of Employment, Workforce Development and Labour; Minister of International Development |
| Strong Middle Class | Ensure that Employment Insurance (EI) contributions are only used to fund EI programs. | Completed - fully met | Minister of Families, Children and Social Development; Minister of Finance |
| Strong Middle Class | Provide a 12-month break on Employment Insurance (EI) premiums for firms that hire younger workers into permanent positions. | Not being pursued | Minister of Finance; Minister of Employment, Workforce Development and Labour |
| Strong Middle Class | Provide more generous and flexible leave for caregivers. | Completed - fully met | Minister of Families, Children and Social Development |
| Strong Middle Class | Develop a Social Innovation and Social Finance strategy. | Actions taken, progress made (Fall Economic Statement) | Minister of Employment, Workforce Development and Labour; Minister of Families, Children and Social Development |
| Strong Middle Class | Introduce the Canada Child Benefit (CCB). | Completed - fully met | Minister of Families, Children and Social Development; Minister of Finance |
| Strong Middle Class | Develop a National Early Learning and Childcare Framework with the provinces and territories. | Completed - fully met | Minister of Families, Children and Social Development; Minister of Status of Women |
| Strong Middle Class | Restore a fair and balanced approach to organized labour. | Completed - fully met | Minister of Employment, Workforce Development and Labour; Minister of Public Services and Procurement and Accessibility |
| Strong Middle Class | Continue to reduce the federal debt-to-Gross Domestic Product ratio. | Actions taken, progress made | Minister of Finance |
| Strong Middle Class | Support regional economic growth strategies. | Actions taken, progress made | Minister of Innovation, Science and Economic Development |
| Strong Middle Class | Make post-secondary education more affordable for low and middle income families. | Completed - fully met | Minister of Employment, Workforce Development and Labour |
| Strong Middle Class | Index Old Age Security (OAS) and Guaranteed Income Supplement (GIS) payments to a new Seniors' Price Index. | Actions taken, progress made | Minister of Families, Children and Social Development; Minister of Seniors |
| Strong Middle Class | Cancel the increase in age of eligibility for Old Age Security (OAS) from 65 to 67. | Completed - fully met | Minister of Families, Children and Social Development |
| Strong Middle Class | Coordinate programs to support low income seniors with provinces and territories. | Actions taken, progress made toward ongoing goal | Minister of Families, Children and Social Development; Minister of Seniors |
| Strong Middle Class | Prioritize affordable housing and seniors' housing as part of the National Housing Strategy. | Actions taken, progress made toward ongoing goal | Minister of Families, Children and Social Development; Minister of Seniors |
| Strong Middle Class | Provide support to maintain rent-geared-to-income subsidies in existing social housing. | Actions taken, progress made | Minister of Families, Children and Social Development |
| Strong Middle Class | Invest in Housing First to reduce homelessness. | Actions taken, progress made | Minister of Families, Children and Social Development |
| Strong Middle Class | Remove all GST on new capital investments in affordable rental housing. | Not being pursued | Minister of Finance; Minister of Families, Children and Social Development |
| Strong Middle Class | Modernize the Home Buyers' Plan. | Actions taken, progress made, facing challenges | Minister of Finance; Minister of Families, Children and Social Development |
| Strong Middle Class | Identify available federal lands that could be repurposed for affordable housing. | Actions taken, progress made | Minister of Public Services and Procurement and Accessibility; Minister of Families, Children and Social Development |
| Strong Middle Class | Review prices in high-priced housing markets and consider all policy tools that could keep home ownership within reach for more Canadians. | Actions taken, progress made toward ongoing goal | Minister of Families, Children and Social Development |
| Strong Middle Class | Bring forward a proposal to prevent mortgage fraud. | Completed - fully met | Minister of Families, Children and Social Development |
| Strong Middle Class | Use the best data available to make decisions on housing. | Actions taken, progress made toward ongoing goal | Minister of Families, Children and Social Development |
| Strong Middle Class | Raise taxes on the top 1% of earners. | Completed - fully met | Minister of Finance |
| Strong Middle Class | Provide more flexible parental leave. | Completed - fully met | Minister of Families, Children and Social Development |
| Jobs and Innovation | Develop and implement an Innovation Agenda. | Actions taken, progress made | Minister of Innovation, Science and Economic Development |
| Jobs and Innovation | Create a Chief Science Officer. | Completed - fully met | Minister of Science and Sport |
| Jobs and Innovation | Re-insert scientific considerations into the heart of decision-making and investment choices. | Completed - fully met | Minister of Science and Sport |
| Jobs and Innovation | Establish new Canada Research Chairs in sustainable technologies. | Actions taken, progress made | Minister of Innovation, Science and Economic Development; Minister of Science and Sport |
| Jobs and Innovation | Strengthen support for fundamental research to support new discoveries. | Actions taken, progress made | Minister of Science and Sport |
| Jobs and Innovation | Ensure tax measures are efficient and encourage innovation, trade and the growth of Canadian businesses. | Actions taken, progress made (Fall Economic Statement) | Minister of Finance; Minister of Innovation, Science and Economic Development |
| Jobs and Innovation | Invest in agricultural research to support discovery science and innovation. | Actions taken, progress made | Minister of Agriculture and Agri-Food |
| Jobs and Innovation | Create more co-op placements for students in science, technology, engineering, mathematics and business programs. | Actions taken, progress made | Minister of Employment, Workforce Development and Labour; Minister of Science and Sport |
| Jobs and Innovation | Help small- and medium-sized enterprises grow, become more innovative and export oriented. | Actions taken, progress made (Fall Economic Statement) | Minister of Innovation, Science and Economic Development; Minister of Small Business and Export Promotion |
| Jobs and Innovation | Increase high-speed broadband coverage and keep Canada at the leading edge of the digital economy. | Actions taken, progress made (Fall Economic Statement) | Minister of Innovation, Science and Economic Development |
| Safety and Security | Renew the Canadian Coast Guard fleet. | Actions taken, progress made, facing challenges | Minister of Fisheries, Oceans and the Canadian Coast Guard; Minister of Public Services and Procurement and Accessibility; Minister of Innovation, Science and Economic Development |
| Safety and Security | Reinforce railway safety. | Actions taken, progress made | Minister of Transport |
| Safety and Security | Maintain current National Defence spending levels, including current planned increases. | Actions taken, progress made | Minister of National Defence |
| Safety and Security | Toughen criminal laws in cases of domestic assault, with the goal of keeping survivors and children safe. | Actions taken, progress made | Minister of Justice and Attorney General of Canada |
| Safety and Security | Re-open the Maritime Rescue Sub-centre in St. John's, Newfoundland, and the Kitsilano Coast Guard Base in Vancouver. | Completed - fully met | Minister of Fisheries, Oceans and the Canadian Coast Guard |
| Safety and Security | Create an Office of Community Outreach and Counter-radicalization Coordinator. | Actions taken, progress made | Minister of Public Safety and Emergency Preparedness |
| Safety and Security | Protect Canadians and our critical infrastructure from cyber threats. | Actions taken, progress made | Minister of Public Safety and Emergency Preparedness; Minister of Infrastructure and Communities; Minister of Innovation, Science and Economic Development; Minister of National Defence; Minister of Democratic Institutions |
| Safety and Security | Strengthen controls on handguns and assault weapons, and examine a full ban of both. | Actions taken, progress made | Minister of Public Safety and Emergency Preparedness; Minister of Justice and Attorney General of Canada; Minister of Border Security and Organized Crime Reduction |
| Safety and Security | Enhance compensation for public safety officers who are permanently disabled or killed in the line of duty. | Actions taken, progress made | Minister of Public Safety and Emergency Preparedness |
| Safety and Security | Restore funding to provinces and territories to support Heavy Urban Search and Rescue teams. | Completed - fully met | Minister of Public Safety and Emergency Preparedness |
| Safety and Security | Develop a plan to better predict, prepare for, and respond to weather-related emergencies and natural disasters. | Actions taken, progress made | Minister of Public Safety and Emergency Preparedness |
| Safety and Security | Ensure that the Canadian Armed Forces have the equipment they need. | Actions taken, progress made toward ongoing goal | Minister of National Defence; Minister of Public Services and Procurement and Accessibility |
| Safety and Security | Maintain Canada's strong commitment to the North American Aerospace Defense Command (NORAD). | Actions taken, progress made toward ongoing goal | Minister of National Defence |
| Safety and Security | Conduct an open and transparent defence strategy review. | Completed - fully met | Minister of National Defence |
| Safety and Security | Renew the focus on surveillance and control of Canadian territory, and approaches, particularly for our Arctic regions. | Actions taken, progress made | Minister of National Defence |
| Safety and Security | Launch an open and transparent competition to replace the CF-18 fighter aircraft. | Actions taken, progress made | Minister of Public Services and Procurement and Accessibility; Minister of National Defence |
| Safety and Security | Improve marine safety. | Actions taken, progress made | Minister of Fisheries, Oceans and the Canadian Coast Guard; Minister of Transport |
| Safety and Security | Repeal problematic elements of Bill C-51 to balance security with rights and freedoms. | Actions taken, progress made | Minister of Public Safety and Emergency Preparedness; Minister of Justice and Attorney General of Canada |
| Safety and Security | Create a committee of Parliamentarians to review national security. | Completed - fully met | Leader of the Government in the House of Commons; Minister of Public Safety and Emergency Preparedness |
| Safety and Security | Increase the size of the Canadian Rangers. | Actions taken, progress made | Minister of National Defence |
| Safety and Security | Implement a strategy against gender violence. | Actions taken, progress made | Minister of Status of Women |
| Safety and Security | Review the criminal justice system, including sentencing reforms, to ensure it keeps us safe and it is fair. | Actions taken, progress made | Minister of Justice and Attorney General of Canada |
| Safety and Security | Undertake modernization efforts to improve the efficiency and effectiveness of the criminal justice system. | Actions taken, progress made | Minister of Justice and Attorney General of Canada |
| Safety and Security | Ensure the Royal Canadian Navy is able to operate as a true maritime force. | Actions taken, progress made, facing challenges | Minister of National Defence; Minister of Public Services and Procurement and Accessibility; Minister of Innovation, Science and Economic Development |
| Exports and Investment | Undertake a full review of the Canadian grain transportation system to help farmers get their product to market. | Completed - fully met | Minister of Agriculture and Agri-Food; Minister of Transport |
| Exports and Investment | Implement a new Trade and Investment Strategy. | Actions taken, progress made (Fall Economic Statement) | Minister of Innovation, Science and Economic Development; Minister of Small Business and Export Promotion; Minister of International Trade Diversification |
| Exports and Investment | Prepare the auto sector for the potential participation of Canada in the Trans-Pacific Partnership. | Actions taken, progress made | Minister of Finance; Minister of Innovation, Science and Economic Development |
| Exports and Investment | Increase tourism and strengthen the Canadian brand abroad by developing a new federal Tourism Strategy. | Actions taken, progress made | Minister of Tourism, Official Languages and La Francophonie |
| Exports and Investment | Invest in an Agri-Food Investment Fund to attract investment and create good, well-paying jobs in food processing. | Actions taken, progress made | Minister of Agriculture and Agri-Food |
| Exports and Investment | Promote Canadian agricultural interests during trade negotiations. | Actions taken, progress made toward ongoing goal | Minister of International Trade Diversification; Minister of Agriculture and Agri-Food |
| Exports and Investment | Maintain constructive relations and deepen trade and commerce with the United States. | Actions taken, progress made toward ongoing goal | Minister of Foreign Affairs; Minister of International Trade Diversification |
| Exports and Investment | Ensure border security and facilitate the movement of people, goods and services. | Actions taken, progress made | Minister of Foreign Affairs; Minister of Transport; Minister of Public Safety and Emergency Preparedness; Minister of Border Security and Organized Crime Reduction |
| Exports and Investment | Sign and ratify the Canada-European Union Comprehensive Economic and Trade Agreement (CETA). | Completed - fully met | Minister of International Trade Diversification |
| Exports and Investment | Negotiate and sign modernized agreements with Israel and Chile. | Actions taken, progress made | Minister of International Trade Diversification |
| Exports and Investment | Establish the Invest in Canada Agency. | Completed - fully met | Minister of International Trade Diversification |
| Exports and Investment | Promote trade and investment with emerging markets with a particular focus on the Asia-Pacific region, including China and India. | Actions taken, progress made toward ongoing goal (Fall Economic Statement) | Minister of International Trade Diversification |
| Exports and Investment | Improve support to companies looking to export and help communities looking to attract investments. | Actions taken, progress made (Fall Economic Statement) | Minister of International Trade Diversification |
| Exports and Investment | Reduce administrative burden for investors and companies associated with international trade. | Actions taken, progress made (Fall Economic Statement) | Minister of International Trade Diversification |
| Exports and Investment | Implement and expand Canada's Free Trade Agreements globally. | Actions taken, progress made toward ongoing goal | Minister of International Trade Diversification |
| Environment and Climate Change | Develop a Canadian energy strategy with provinces and territories. | Completed - modified | Minister of Natural Resources |
| Environment and Climate Change | Modernize the National Energy Board. | Actions taken, progress made | Minister of Natural Resources |
| Environment and Climate Change | Develop a North American clean energy and environment agreement. | Completed - fully met | Minister of Environment and Climate Change; Minister of Foreign Affairs; Minister of Natural Resources |
| Environment and Climate Change | Formalize a moratorium on crude oil tanker traffic on British Columbia's North Coast. | Actions taken, progress made | Minister of Fisheries, Oceans and the Canadian Coast Guard; Minister of Transport |
| Environment and Climate Change | Ratify the Paris agreement and develop a Pan-Canadian framework for combating climate change. | Completed - fully met | Minister of Environment and Climate Change |
| Environment and Climate Change | Improve protection and stewardship of our freshwater resources. | Actions taken, progress made | Minister of Environment and Climate Change |
| Environment and Climate Change | Enhance protection of Canada's endangered species. | Actions taken, progress made | Minister of Environment and Climate Change |
| Environment and Climate Change | Work with provinces and territories to set stronger air quality standards. | Actions taken, progress made | Minister of Environment and Climate Change |
| Environment and Climate Change | Review Canada's environmental assessment processes. | Actions taken, progress made | Minister of Fisheries, Oceans and the Canadian Coast Guard; Minister of Natural Resources; Minister of Environment and Climate Change; Minister of Science and Sport; Minister of Crown-Indigenous Relations; Minister of Intergovernmental and Northern Affairs and Internal Trade |
| Environment and Climate Change | Develop Canada's National Parks system, as well as manage and expand National Wildlife Areas and Migratory Bird Sanctuaries. | Actions taken, progress made | Minister of Environment and Climate Change |
| Environment and Climate Change | Develop Parks Canada services so that more Canadians can experience our National Parks. | Actions taken, progress made | Minister of Environment and Climate Change |
| Environment and Climate Change | Make admission to National Parks free for all in 2017 and, afterwards, free for children under 18 and new citizens. | Completed - fully met | Minister of Environment and Climate Change |
| Environment and Climate Change | Expand Learn to Camp programs. | Completed - fully met | Minister of Environment and Climate Change |
| Environment and Climate Change | Protect our National Parks by limiting development within them and help local eco-tourism industries. | Actions taken, progress made | Minister of Environment and Climate Change; Minister of Tourism, Official Languages and La Francophonie |
| Environment and Climate Change | Work with Ontario to enhance the country's first urban National Park: Rouge National Urban Park. | Completed - fully met | Minister of Environment and Climate Change |
| Environment and Climate Change | Protect the Great Lakes, the St. Lawrence River Basin and the Lake Winnipeg Basin. | Actions taken, progress made toward ongoing goal | Minister of Environment and Climate Change; Minister of Fisheries, Oceans and the Canadian Coast Guard |
| Environment and Climate Change | Examine the implications of climate change on Arctic marine ecosystems. | Actions taken, progress made | Minister of Fisheries, Oceans and the Canadian Coast Guard; Minister of Environment and Climate Change; Minister of Science and Sport |
| Environment and Climate Change | Work with stakeholders to better co-manage our three oceans. | Actions taken, progress made toward ongoing goal | Minister of Fisheries, Oceans and the Canadian Coast Guard |
| Environment and Climate Change | Restore funding to support federal ocean science and monitoring programs. | Completed - fully met | Minister of Fisheries, Oceans and the Canadian Coast Guard |
| Environment and Climate Change | Use good scientific evidence and traditional Indigenous knowledge when making decisions affecting fish stocks and ecosystem management. | Actions taken, progress made | Minister of Fisheries, Oceans and the Canadian Coast Guard |
| Environment and Climate Change | Act on recommendations of the Cohen Commission on restoring sockeye salmon stocks in the Fraser River. | Completed - fully met | Minister of Fisheries, Oceans and the Canadian Coast Guard |
| Environment and Climate Change | Help the agriculture sector adjust to climate change and better address water and soil conservation issues. | Actions taken, progress made | Minister of Agriculture and Agri-Food |
| Environment and Climate Change | Make Canada a leader of international efforts to combat climate change. | Actions taken, progress made toward ongoing goal | Minister of Foreign Affairs |
| Environment and Climate Change | Develop proposals to limit Exploration Expenses tax deduction to unsuccessful projects. | Completed - fully met | Minister of Finance |
| Environment and Climate Change | Make strategic investments in the clean technology sector. | Actions taken, progress made (Fall Economic Statement) | Minister of Natural Resources; Minister of Innovation, Science and Economic Development; Minister of Agriculture and Agri-Food; Minister of International Trade Diversification |
| Environment and Climate Change | Enhance Canada's tax measures to generate and attract more clean technology investments. | Actions taken, progress made (Fall Economic Statement) | Minister of Finance; Minister of Natural Resources |
| Environment and Climate Change | Review the previous government's changes to the Fisheries Act and Navigable Waters Protection Act. | Actions taken, progress made | Minister of Transport; Minister of Fisheries, Oceans and the Canadian Coast Guard |
| Environment and Climate Change | Phase out inefficient fossil fuel industry subsidies over the medium-term. | Actions taken, progress made | Minister of Environment and Climate Change; Minister of Finance |
| Environment and Climate Change | Increase the proportion of Canada's marine and coastal areas that are protected to five percent by 2017, and ten percent by 2020. | Actions taken, progress made | Minister of Fisheries, Oceans and the Canadian Coast Guard; Minister of Environment and Climate Change |
| Environment and Climate Change | Restore annual federal funding for freshwater research and make new investments in Canada's Experimental Lakes Area. | Completed - fully met | Minister of Fisheries, Oceans and the Canadian Coast Guard |
| Environment and Climate Change | Implement the Pan-Canadian framework, including targeted federal funding and a flexible national carbon pollution pricing policy. | Actions taken, progress made | Minister of Environment and Climate Change; Minister of Finance; Minister of Crown-Indigenous Relations; Minister of Intergovernmental and Northern Affairs and Internal Trade |
| Diverse and Inclusive Canada | Ensure that Parliament and federal institutions are free from harassment and sexual violence. | Actions taken, progress made | Minister of Employment, Workforce Development and Labour; President of the Treasury Board and Minister of Digital Government; Minister of Status of Women; Leader of the Government in the House of Commons |
| Diverse and Inclusive Canada | Add gender identity as a prohibited ground for discrimination under the Canadian Human Rights Act and add it to the list of characteristics of identifiable groups protected by the hate speech provisions of the Criminal Code. | Completed - fully met | Minister of Justice and Attorney General of Canada |
| Diverse and Inclusive Canada | Resettle 25,000 refugees from Syria. | Completed - modified | Minister of Immigration, Refugees and Citizenship; Minister of International Development |
| Diverse and Inclusive Canada | Double the number of entry applications for parents and grandparents of immigrants to 10,000 a year. | Completed - fully met | Minister of Immigration, Refugees and Citizenship |
| Diverse and Inclusive Canada | Give additional points under the Express Entry system to applicants who have Canadian siblings. | Completed - fully met | Minister of Immigration, Refugees and Citizenship |
| Diverse and Inclusive Canada | Increase the maximum age for dependents from 19 to 22 to allow more families to stay together and bring their children to Canada. | Completed - fully met | Minister of Immigration, Refugees and Citizenship |
| Diverse and Inclusive Canada | Bring forward a proposal regarding permanent residency for new spouses entering Canada. | Completed - fully met | Minister of Immigration, Refugees and Citizenship |
| Diverse and Inclusive Canada | Restore the Interim Federal Health Program that provides health benefits to refugees. | Completed - fully met | Minister of Immigration, Refugees and Citizenship |
| Diverse and Inclusive Canada | Make it easier for international students to stay in Canada after their studies. | Completed - fully met | Minister of Immigration, Refugees and Citizenship |
| Diverse and Inclusive Canada | Promote the celebration of Canada 150. | Completed - fully met | Minister of Canadian Heritage and Multiculturalism; Minister of Science and Sport |
| Diverse and Inclusive Canada | Restore and increase funding for CBC/Radio-Canada. | Completed - fully met | Minister of Canadian Heritage and Multiculturalism |
| Diverse and Inclusive Canada | Ensure that the appointment process to the CBC/Radio-Canada Board of Directors is merit-based and independent. | Completed - fully met | Minister of Canadian Heritage and Multiculturalism |
| Diverse and Inclusive Canada | Double investment in the Canada Council for the Arts. | Completed - fully met | Minister of Canadian Heritage and Multiculturalism |
| Diverse and Inclusive Canada | Increase funding for Telefilm Canada and the National Film Board. | Completed - fully met | Minister of Canadian Heritage and Multiculturalism |
| Diverse and Inclusive Canada | Restore PromArt and Trade Routes international cultural promotion programs. | Completed - fully met | Minister of Foreign Affairs; Minister of Canadian Heritage and Multiculturalism; Minister of International Trade Diversification |
| Diverse and Inclusive Canada | Develop a multi-year Official Languages plan to support English and French linguistic minorities. | Completed - fully met | Minister of Canadian Heritage and Multiculturalism; Minister of Tourism, Official Languages and La Francophonie |
| Diverse and Inclusive Canada | Establish a free, online service for learning and retaining English and French as second languages. | Actions taken, progress made, facing challenges | Minister of Tourism, Official Languages and La Francophonie; President of the Treasury Board and Minister of Digital Government |
| Diverse and Inclusive Canada | Lead preparations for the 2016 Rio Olympics and Paralympics. | Completed - fully met | Minister of Science and Sport |
| Diverse and Inclusive Canada | Raise the quality of the Gender-Based Analysis Plus (GBA+) applied to Cabinet proposals. | Actions taken, progress made | Minister of Status of Women |
| Diverse and Inclusive Canada | Ensure that the Government's senior appointments are merit-based and demonstrate gender parity. | Actions taken, progress made | Minister of Status of Women |
| Diverse and Inclusive Canada | Ensure strong and effective gender and culturally sensitive training policies for federal front-line law enforcement officers. | Actions taken, progress made | Minister of Status of Women |
| Diverse and Inclusive Canada | Ensure that the Canadian Armed Forces are a workplace free from harassment and discrimination. | Actions taken, progress made | Minister of National Defence |
| Diverse and Inclusive Canada | Ensure that all federal services are delivered in compliance with the Official Languages Act. | Actions taken, progress made | President of the Treasury Board and Minister of Digital Government; Minister of Tourism, Official Languages and La Francophonie |
| Diverse and Inclusive Canada | Develop a National Disabilities Act. | Actions taken, progress made | Minister of Families, Children and Social Development; Minister of Public Services and Procurement and Accessibility |
| Diverse and Inclusive Canada | Ensure that the Royal Canadian Mounted Police and all other parts of the Public Safety portfolio are workplaces free from harassment and sexual violence. | Actions taken, progress made | Minister of Public Safety and Emergency Preparedness |
| Diverse and Inclusive Canada | Encourage an increase in the number of women in senior positions and on boards in Canada. | Actions taken, progress made | Minister of Status of Women; Minister of Employment, Workforce Development and Labour |
| Diverse and Inclusive Canada | Increase women representation where they have been traditionally under-represented, such as in the skilled trades. | Actions taken, progress made | Minister of Employment, Workforce Development and Labour |
| Indigenous peoples | Increase annual support to the Post-Secondary Student Support Program. | Actions taken, progress made | Minister of Employment, Workforce Development and Labour; Minister of Indigenous Services |
| Indigenous peoples | Improve essential infrastructure for Indigenous communities, including improving housing. | Actions taken, progress made, facing challenges | Minister of Infrastructure and Communities; Minister of Indigenous Services |
| Indigenous peoples | Implement the recommendations of the Truth and Reconciliation Commission. | Actions taken, progress made, facing challenges | Minister of Crown-Indigenous Relations |
| Indigenous peoples | Undertake a review of laws and policies to ensure the Crown is fulfilling its obligations and commitments to the recognition and implementation of Indigenous peoples' rights. | Actions taken, progress made | Minister of Crown-Indigenous Relations; Minister of Indigenous Services |
| Indigenous peoples | Invest in First Nations education to ensure that First Nations children on reserve receive a quality education. | Actions taken, progress made, facing challenges | Minister of Indigenous Services |
| Indigenous peoples | Incorporate Aboriginal and treaty rights, residential schools and Indigenous contributions into school curricula. | Actions taken, progress made | Minister of Crown-Indigenous Relations |
| Indigenous peoples | Work with the Métis Nation to advance reconciliation and renew the relationship. | Actions taken, progress made | Minister of Crown-Indigenous Relations |
| Indigenous peoples | Promote economic development and create jobs for Indigenous peoples. | Actions taken, progress made | Minister of Employment, Workforce Development and Labour; Minister of Indigenous Services; Minister of Innovation, Science and Economic Development |
| Indigenous peoples | Undertake an inquiry into missing and murdered Indigenous women and girls in Canada. | Actions taken, progress made, facing challenges | Minister of Crown-Indigenous Relations; Minister of Justice and Attorney General of Canada; Minister of Status of Women |
| Indigenous peoples | Improve services to Indigenous people and those with mental illness throughout the criminal justice system. | Actions taken, progress made | Minister of Justice and Attorney General of Canada; Minister of Public Safety and Emergency Preparedness |
| Indigenous peoples | Renew and improve the Aboriginal Skills and Employment Training Strategy. | Actions taken, progress made | Minister of Employment, Workforce Development and Labour |
| Indigenous peoples | Establish a new fiscal relationship with First Nations communities and lift the 2% cap. | Actions taken, progress made | Minister of Finance;Minister of Crown-Indigenous Relations |
| Indigenous peoples | Co-develop an Indigenous Languages Act. | Actions taken, progress made | Minister of Canadian Heritage and Multiculturalism |
| Indigenous peoples | Co-develop an Indigenous Early Learning and Childcare Framework with Indigenous partners. | Completed - fully met | Minister of Families, Children and Social Development; Minister of Indigenous Services; Minister of Status of Women |
| Healthy Canadians | Respond to the Supreme Court of Canada decision regarding physician-assisted death. | Completed - fully met | Minister of Justice and Attorney General of Canada |
| Healthy Canadians | Sign new Health Accord with the provinces and territories. | Completed - fully met | Minister of Health |
| Healthy Canadians | Increase rates of vaccination. | Actions taken, progress made | Minister of Health |
| Healthy Canadians | Introduce plain packaging requirements for tobacco products. | Actions taken, progress made | Minister of Health |
| Healthy Canadians | Create greater links between our elite athletes and young Canadians to promote health and achievement among youth. | Actions taken, progress made | Minister of Science and Sport |
| Healthy Canadians | Develop a food policy that promotes healthy living and safe food. | Actions taken, progress made | Minister of Agriculture and Agri-Food |
| Healthy Canadians | Legalize and strictly regulate cannabis. | Completed - fully met | Minister of Border Security and Organized Crime Reduction; Minister of Health; Minister of Public Safety and Emergency Preparedness; Minister of Justice and Attorney General of Canada |
| Healthy Canadians | Raise awareness on concussion treatment. | Completed - fully met | Minister of Science and Sport; Minister of Health |
| Healthy Canadians | Update and expand the Nutrition North program. | Actions taken, progress made (Fall Economic Statement) | Minister of Health; Minister of Crown-Indigenous Relations; Minister of Intergovernmental and Northern Affairs and Internal Trade |
| Healthy Canadians | Develop a coordinated national action plan on post-traumatic stress disorder. | Actions taken, progress made | Minister of Public Safety and Emergency Preparedness |
| Healthy Canadians | Develop a suicide prevention strategy for Canadian Armed Forces personnel and Veterans. | Completed - fully met | Minister of National Defence; Minister of Veterans Affairs |
| Healthy Canadians | Introduce restrictions on the commercial marketing of unhealthy food and beverages to children. | Actions taken, progress made | Minister of Health |
| Healthy Canadians | Bring in tougher regulations to eliminate trans fats and reduce salt in processed foods. | Actions taken, progress made | Minister of Health |
| Healthy Canadians | Improve food labels to give more information on added sugars and artificial dyes. | Actions taken, progress made | Minister of Health |
| Healthy Canadians | New Health Accord supports the delivery of more and better home care services. | Actions taken, progress made | Minister of Health; Minister of Seniors |
| Healthy Canadians | New Health Accord advances pan-Canadian collaboration on health innovation. | Actions taken, progress made | Minister of Health |
| Healthy Canadians | New Health Accord improves access to necessary prescription medications. | Actions taken, progress made | Minister of Health |
| Healthy Canadians | New Health Accord makes high quality mental health services available. | Actions taken, progress made | Minister of Health |
| Sustainable Infrastructure | Move forward on a toll-free replacement for the Champlain Bridge. | Actions taken, progress made | Minister of Infrastructure and Communities |
| Sustainable Infrastructure | Determine an appropriate apprenticeship target for federal infrastructure projects. | Actions taken, progress made, facing challenges | Minister of Employment, Workforce Development and Labour |
| Sustainable Infrastructure | Create the Canada Infrastructure Bank. | Completed - fully met | Minister of Infrastructure and Communities; Minister of Finance |
| Sustainable Infrastructure | Implement an Infrastructure Strategy that improves public transit. | Actions taken, progress made | Minister of Infrastructure and Communities; Minister of Transport |
| Sustainable Infrastructure | Implement an Infrastructure Strategy that improves social infrastructure. | Actions taken, progress made | Minister of Infrastructure and Communities; Minister of Canadian Heritage and Multiculturalism; Minister of Public Services and Procurement and Accessibility |
| Sustainable Infrastructure | Implement an Infrastructure Strategy that improves green infrastructure. | Actions taken, progress made | Minister of Infrastructure and Communities; Minister of Transport; Minister of Environment and Climate Change |
| Sustainable Infrastructure | Invest in transportation infrastructure that helps get goods to market. | Actions taken, progress made (Fall Economic Statement) | Minister of Infrastructure and Communities; Minister of Agriculture and Agri-Food; Minister of Transport |
| Sustainable Infrastructure | Establish bilateral agreements with provinces and territories on infrastructure investments. | Completed - fully met | Minister of Infrastructure and Communities |
| Sustainable Infrastructure | Expand the network of shelters and transition houses for those fleeing domestic violence. | Actions taken, progress made | Minister of Infrastructure and Communities; Minister of Indigenous Services; Minister of Status of Women |
| Sustainable Infrastructure | Ensure any unspent infrastructure funds are transferred to municipalities. | Actions taken, progress made | Minister of Infrastructure and Communities; Minister of Finance |
| Sustainable Infrastructure | Develop a 10-year infrastructure plan, improve governance and promote better data collection and asset management. | Actions taken, progress made | Minister of Infrastructure and Communities; Minister of Transport |
| Sustainable Infrastructure | Make sure the Infrastructure Bank supports the construction of new, affordable rental housing. | Actions taken, progress made toward ongoing goal | Minister of Families, Children and Social Development |
| Fair and Open Government | Strengthen oversight on government advertising. | Actions taken, progress made | President of the Treasury Board and Minister of Digital Government |
| Fair and Open Government | Improve the use of evidence in program evaluation. | Actions taken, progress made | President of the Treasury Board and Minister of Digital Government |
| Fair and Open Government | Make government data available digitally. | Actions taken, progress made | President of the Treasury Board and Minister of Digital Government; Minister of Innovation, Science and Economic Development |
| Fair and Open Government | Bargain in good faith with Canada's public sector unions. | Actions taken, progress made | President of the Treasury Board and Minister of Digital Government |
| Fair and Open Government | Restore the long-form census. | Completed - fully met | Minister of Innovation, Science and Economic Development |
| Fair and Open Government | Reinforce Statistics Canada's independence. | Completed - fully met | Minister of Innovation, Science and Economic Development |
| Fair and Open Government | Review the government litigation strategy and end appeals or positions that are not consistent with our commitments, the Charter or our values. | Actions taken, progress made | Minister of Justice and Attorney General of Canada |
| Fair and Open Government | Ensure that the appointment of Supreme Court Justices is transparent, inclusive and accountable to Canadians. | Completed - fully met | Minister of Justice and Attorney General of Canada |
| Fair and Open Government | Repeal provisions in the Citizenship Act that give the government the right to strip citizenship from dual nationals. | Completed - fully met | Minister of Immigration, Refugees and Citizenship |
| Fair and Open Government | Restore a modern Court Challenges Program. | Actions taken, progress made | Minister of Canadian Heritage and Multiculturalism; Minister of Justice and Attorney General of Canada |
| Fair and Open Government | Work with Parliamentarians to reform Question Period so that all ministers, including the Prime Minister, are held to greater account. | Completed - fully met | Leader of the Government in the House of Commons |
| Fair and Open Government | Promote free votes and limit the circumstances in which Liberal Members of Parliament will be required to vote with the Government. | Completed - fully met | Leader of the Government in the House of Commons |
| Fair and Open Government | End the improper use of omnibus bills and prorogation. | Completed - fully met | Leader of the Government in the House of Commons |
| Fair and Open Government | Make government accounting and financial reporting more consistent, transparent and understandable to Canadians. | Completed - fully met | President of the Treasury Board and Minister of Digital Government; Minister of Finance; Leader of the Government in the House of Commons |
| Fair and Open Government | Improve reporting to Parliament. | Actions taken, progress made | President of the Treasury Board and Minister of Digital Government |
| Fair and Open Government | Ensure that Agents of Parliament are properly funded and accountable only to Parliament. | Actions taken, progress made | Leader of the Government in the House of Commons |
| Fair and Open Government | Ensure that the Parliamentary Budget Officer (PBO) is properly funded and independent of the Government. | Completed - fully met | Leader of the Government in the House of Commons |
| Fair and Open Government | Strengthen Parliamentary committees so that they can better scrutinize legislation. | Completed - fully met | Leader of the Government in the House of Commons |
| Fair and Open Government | Disclose the expenses of all Parliamentarians in detail each quarter. | Actions taken, progress made | Leader of the Government in the House of Commons |
| Fair and Open Government | Examine ways to make the House of Commons more family-friendly for Members of Parliament. | Actions taken, progress made | Leader of the Government in the House of Commons |
| Fair and Open Government | Develop a non-partisan, merit-based process to advise the Prime Minister on Senate appointments. | Completed - fully met | Minister of Democratic Institutions |
| Fair and Open Government | Establish a special parliamentary committee to consult on electoral reform. | Not being pursued | Minister of Democratic Institutions |
| Fair and Open Government | Make the Commissioner of Canada Elections more independent. | Actions taken, progress made | Minister of Democratic Institutions |
| Fair and Open Government | Bring forward options to create an independent commissioner to organize political party leaders' debates. | Actions taken, progress made | Minister of Democratic Institutions |
| Fair and Open Government | Review limits that political and third parties can spend during elections, and propose measures to control spending between elections. | Actions taken, progress made | Minister of Democratic Institutions |
| Fair and Open Government | Allow charities to do their work free from political harassment, and modernize the rules governing the charitable and not-for-profit sectors. | Actions taken, progress made | Minister of Finance; Minister of Justice and Attorney General of Canada; Minister of National Revenue |
| Fair and Open Government | Improve access to information to enhance the openness of government. | Actions taken, progress made | President of the Treasury Board and Minister of Digital Government; Minister of Justice and Attorney General of Canada; Minister of Democratic Institutions |
| Fair and Open Government | Modernize the Communications Policy of the Government to reflect the modern digital environment. | Completed - fully met | President of the Treasury Board and Minister of Digital Government |
| Fair and Open Government | Take a more modern approach to comptrollership. | Completed - fully met | President of the Treasury Board and Minister of Digital Government |
| Fair and Open Government | Exercise due diligence regarding costing analysis prepared by departments for all proposed legislation and programs. | Actions taken, progress made | President of the Treasury Board and Minister of Digital Government |
| Fair and Open Government | Make meetings of the Board of Internal Economy open by default. | Completed - fully met | Leader of the Government in the House of Commons |
| Fair and Open Government | Repeal elements of the Fair Elections Act which make it harder for Canadians to vote. | Actions taken, progress made | Minister of Democratic Institutions |
| Fair and Open Government | Conduct a review of government spending to reduce poorly targeted and inefficient programs. | Actions taken, progress made | President of the Treasury Board and Minister of Digital Government; Minister of Finance |
| Canada in the World | Refocus Canada's development assistance on helping the most vulnerable and supporting fragile states. | Actions taken, progress made | Minister of International Development |
| Canada in the World | Create a new policy and funding framework to ensure that Canada's aid empowers people and supports broad-based, sustainable growth in the developing world. | Completed - fully met | Minister of International Development |
| Canada in the World | Support the implementation of the 2030 Agenda for Sustainable Development, adopted by the United Nations in September 2015. | Actions taken, progress made | Minister of Families, Children and Social Development; Minister of International Development |
| Canada in the World | Support the full range of reproductive health services and close the gap in the Maternal, Newborn and Child Health Initiative. | Actions taken, progress made | Minister of International Development |
| Canada in the World | Support innovative, evidence-based approaches to development assistance. | Actions taken, progress made | Minister of International Development |
| Canada in the World | Provide assistance to countries that are vulnerable to the destabilizing effects of climate change. | Actions taken, progress made | Minister of International Development |
| Canada in the World | Ensure Canada's strong and sustained engagement in the Organisation internationale de la Francophonie. | Actions taken, progress made toward ongoing goal | Minister of Tourism, Official Languages and La Francophonie |
| Canada in the World | Establish an expert human rights panel to help determine designated countries of origin and provide a right to appeal refugee decisions for citizens from these countries. | Actions taken, progress made | Minister of Immigration, Refugees and Citizenship |
| Canada in the World | Facilitate the temporary entry of low risk travellers and lift the visa requirement for Mexico. | Completed - fully met | Minister of Foreign Affairs; Minister of Immigration, Refugees and Citizenship |
| Canada in the World | Prepare for the North American Leaders Summit in Canada. | Completed - fully met | Minister of Foreign Affairs |
| Canada in the World | Ensure a close link between foreign, defence, development and trade policy. | Actions taken, progress made | Minister of Foreign Affairs |
| Canada in the World | Expand Canadian diplomacy and leadership on global issues and in international institutions. | Actions taken, progress made | Minister of Foreign Affairs |
| Canada in the World | Accede to the Arms Trade Treaty (ATT). | Actions taken, progress made | Minister of Foreign Affairs |
| Canada in the World | Advance human rights, gender equality, peaceful pluralism and respect for diversity internationally. | Actions taken, progress made toward ongoing goal | Minister of International Development; Minister of Foreign Affairs |
| Canada in the World | Work on development financing issues. | Actions taken, progress made | Minister of Finance; Minister of International Development; Minister of International Trade Diversification |
| Canada in the World | End Canada's combat mission in Iraq and Syria and refocus Canada's efforts on training and humanitarian support. | Completed - fully met | Minister of National Defence |
| Canada in the World | Renew Canada's commitment to United Nations peace operations. | Actions taken, progress made | Minister of National Defence; Minister of Foreign Affairs |
| Canada in the World | Maintain Canada's strong commitment to the North Atlantic Treaty Organization (NATO). | Actions taken, progress made toward ongoing goal | Minister of National Defence |
| Government Services and Operations | Ensure that the Canada Revenue Agency is a client-focused agency. | Actions taken, progress made toward ongoing goal | Minister of National Revenue |
| Government Services and Operations | Undertake a review of Canada Post to make sure it provides high-quality service at a reasonable price. | Actions taken, progress made, facing challenges | Minister of Public Services and Procurement and Accessibility |
| Government Services and Operations | Modernize procurement practices. | Actions taken, progress made | Minister of Public Services and Procurement and Accessibility |
| Government Services and Operations | Establish new performance standards for government services and measure and report on performance. | Actions taken, progress made | Minister of Families, Children and Social Development; President of the Treasury Board and Minister of Digital Government; Minister of Public Services and Procurement and Accessibility; Minister of Democratic Institutions |
| Government Services and Operations | Align business support programs across governments. | Actions taken, progress made | Minister of Small Business and Export Promotion |
| Government Services and Operations | Reduce the administrative burden on small business. | Actions taken, progress made (Fall Economic Statement) | Minister of Small Business and Export Promotion |
| Government Services and Operations | Improve client service delivery and immigration, refugees and citizenship application processing times. | Actions taken, progress made | Minister of Immigration, Refugees and Citizenship |
| Government Services and Operations | Help injured Veterans by re-establishing lifelong pensions and insuring that they all have access to financial advice and support. | Actions taken, progress made | Minister of Veterans Affairs |
| Government Services and Operations | Expand access to the Permanent Impairment Allowance to better support Veterans. | Completed - fully met | Minister of Veterans Affairs |
| Government Services and Operations | Provide injured veterans with 90% of their pre-release salary, and index this benefit to inflation. | Completed - fully met | Minister of Veterans Affairs |
| Government Services and Operations | Create a Veterans Education Benefit that supports the education costs of Canadian Forces Veterans after completion of service. | Completed - fully met | Minister of Veterans Affairs |
| Government Services and Operations | Improve career and vocational assistance for Veterans. | Actions taken, progress made | Minister of Veterans Affairs |
| Government Services and Operations | Deliver a higher standard of service and care, and ensure that a "one veteran, one standard" approach is upheld. | Actions taken, progress made | Minister of Veterans Affairs |
| Government Services and Operations | Re-open the nine Veterans Affairs service offices recently closed. | Completed - fully met | Minister of Veterans Affairs |
| Government Services and Operations | Create two centres of excellence in Veterans' care, including one specialized in mental health and post-traumatic stress disorder. | Actions taken, progress made | Minister of Veterans Affairs |
| Government Services and Operations | Support families who are providing care and support to Veterans living with physical and/or mental health issues. | Completed - fully met | Minister of Veterans Affairs |
| Government Services and Operations | End the time limit for surviving spouses applying for vocational rehabilitation and assistance services. | Completed - fully met | Minister of Veterans Affairs |
| Government Services and Operations | Increase the Veteran survivor's pension amount from 50% to 70%. | Actions taken, progress made | Minister of Veterans Affairs |
| Government Services and Operations | Ensure that surviving spouses of Veterans receive appropriate benefits by eliminating the marriage after 60 clawback. | Actions taken, progress made | Minister of Veterans Affairs |
| Government Services and Operations | Double funding to the Last Post Fund to ensure that all veterans receive a dignified burial. | Completed - fully met | Minister of Veterans Affairs |
| Government Services and Operations | Assess whether current farm income safety nets meet the needs of Canadian farmers. | Actions taken, progress made | Minister of Agriculture and Agri-Food |
| Government Services and Operations | Reduce complexity and strengthen partnerships between National Defence and Veterans Affairs. | Actions taken, progress made | Minister of Veterans Affairs; Minister of National Defence |
| Government Services and Operations | Ensure that the Canada Revenue Agency proactively contacts those who are entitled to, but are not receiving, tax benefits. | Actions taken, progress made | Minister of National Revenue |
| Government Services and Operations | Ensure that the Canada Revenue Agency (CRA) offers to complete returns for lower-income Canadians whose financial situation is unchanged year-to-year. | Actions taken, progress made | Minister of National Revenue |
| Government Services and Operations | Ensure that the Canada Revenue Agency supports more Canadians who wish to file taxes using no paper forms. | Actions taken, progress made | Minister of National Revenue |
| Government Services and Operations | Ensure that the Canada Revenue Agency delivers correspondence and other communications that are straightforward and easy to read. | Actions taken, progress made | Minister of National Revenue |
| Government Services and Operations | Ensure that a fixed percentage of funds is devoted to experimenting with new approaches to challenges and measure the impact of programs. | Actions taken, progress made | President of the Treasury Board and Minister of Digital Government |
| Government Services and Operations | Develop a strategy that aims to create a single online window for all government services. | Actions taken, progress made, facing challenges | President of the Treasury Board and Minister of Digital Government; Minister of Public Services and Procurement and Accessibility; Minister of Democratic Institutions |
| Government Services and Operations | Set transparent service standards for the delivery of Employment Insurance (EI) benefits. | Actions taken, progress made | Minister of Families, Children and Social Development |
| Government Services and Operations | Implement the Auditor General's recommendations on enhancing mental health service delivery to Veterans. | Completed - fully met | Minister of Veterans Affairs |
| Government Services and Operations | Increase the value of the Disability Award. | Completed - fully met | Minister of Veterans Affairs |
Table 2.2
List of Mandate Letter Commitments made post-November 2015 by Priority Area

| Priority | Commitment | Status | Minister(s) |
| --- | --- | --- | --- |
| Strong Middle Class | Respond to the recommendations of the Expert Panel on Youth Employment. | Actions taken, progress made | Minister of Employment, Workforce Development and Labour |
| Strong Middle Class | Update the Canada Labour Code to address emerging issues such as unpaid internships and ensure modern federal employment standards. | Actions taken, progress made | Minister of Employment, Workforce Development and Labour |
| Strong Middle Class | Develop further initiatives to equip Canadians with the skills needed for the jobs of today and tomorrow, and to better assist workers getting help before becoming unemployed. | Actions taken, progress made | Minister of Employment, Workforce Development and Labour |
| Strong Middle Class | Strengthen the protection of workplace pensions. | Actions taken, progress made | Minister of Seniors; Minister of Finance; Minister of Innovation, Science and Economic Development; Minister of Employment, Workforce Development and Labour |
| Strong Middle Class | Improve Canadian competiveness, create jobs and generate economic growth. | Actions taken, progress made toward ongoing goal (Fall Economic Statement) | Minister of International Trade Diversification |
| Strong Middle Class | Eliminate the $1,000 Labour Market Impact Assessment fee to hire caregivers. | Completed - fully met | Minister of Employment, Workforce Development and Labour; Minister of Immigration, Refugees and Citizenship |
| Strong Middle Class | Promote good quality jobs by developing the Global Skills Strategy. | Completed - fully met | Minister of Employment, Workforce Development and Labour |
| Strong Middle Class | Support seniors programming and work on initiatives that impact seniors. | Actions taken, progress made | Minister of Seniors |
| Strong Middle Class | Design and implement initiatives to better protect consumers, particularly seniors, from potential harms in dealing with financial institutions and telecommunications companies. | Actions taken, progress made (Fall Economic Statement) | Minister of Seniors; Minister of Finance; Minister of Innovation, Science and Economic Development |
| Jobs and Innovation | Develop the vision for the new federal science infrastructure. | Actions taken, progress made | Minister of Public Services and Procurement and Accessibility |
| Jobs and Innovation | Work with media organizations to consider how the government can further support the transition to digital media. | Actions taken, progress made (Fall Economic Statement) | Minister of Canadian Heritage and Multiculturalism |
| Jobs and Innovation | Develop new and innovative approaches to modernize fisheries and aquaculture and responsible economic development on all three coasts. | Actions taken, progress made toward ongoing goal (Fall Economic Statement) | Minister of Fisheries, Oceans and the Canadian Coast Guard |
| Jobs and Innovation | Double the number of women-owned businesses in Canada by 2025. | Actions taken, progress made | Minister of Small Business and Export Promotion |
| Jobs and Innovation | Identify opportunities to support workers and businesses in the natural resource sectors to export their goods to global markets, including twinning the Trans Mountain Pipeline. | Actions taken, progress made | Minister of Natural Resources |
| Jobs and Innovation | Collaborate with provinces and territories to eliminate barriers to trade between each other, and work toward a stronger, more integrated Canadian economy. | Actions taken, progress made (Fall Economic Statement) | Minister of Intergovernmental and Northern Affairs and Internal Trade |
| Jobs and Innovation | Eliminate barriers to trade between provinces and territories to positively impact the competitiveness of Canadian businesses and the lives of Canadians through greater harmonization of rules and regulatory requirements where appropriate. | Actions taken, progress made (Fall Economic Statement) | Minister of Intergovernmental and Northern Affairs and Internal Trade |
| Jobs and Innovation | Support the Prime Minister in hosting a First Ministers' Meeting in Fall 2018, focusing on ways to build on Canada's economic growth. | Actions taken, progress made | Minister of Intergovernmental and Northern Affairs and Internal Trade |
| Jobs and Innovation | Partner with the Atlantic provinces on the Atlantic Growth Strategy, and seek opportunities to develop new partnerships with other provinces and territories that contribute to economic prosperity. | Actions taken, progress made | Minister of Intergovernmental and Northern Affairs and Internal Trade; Minister of Innovation, Science and Economic Development |
| Jobs and Innovation | Use work on accessibility as a catalyst for new ideas and business strategies through technology and design. | Actions taken, progress made | Minister of Public Services and Procurement and Accessibility |
| Safety and Security | Address crimes that target seniors including elder abuse and online financial scams. | Actions taken, progress made | Minister of Seniors; Minister of Justice and Attorney General of Canada; Minister of Public Safety and Emergency Preparedness; Minister of Finance |
| Safety and Security | Lead conversations with the United States on the Safe Third Country Agreement. | Actions taken, progress made | Minister of Border Security and Organized Crime Reduction; Minister of Foreign Affairs; Minister of Immigration, Refugees and Citizenship |
| Safety and Security | Reduce the smuggling of opioids across Canadian borders in partnership with provinces, territories, and municipalities, and the United States. | Actions taken, progress made | Minister of Border Security and Organized Crime Reduction |
| Safety and Security | Develop new policies and legislation to reduce organized crime and gang activity in Canada, including money laundering. | Actions taken, progress made | Minister of Border Security and Organized Crime Reduction |
| Safety and Security | Seek additional opportunities to expand pre-clearance operations for travelers to the United States. | Actions taken, progress made | Minister of Border Security and Organized Crime Reduction; Minister of Transport; Minister of Foreign Affairs; Minister of Public Safety and Emergency Preparedness |
| Safety and Security | Chair the Ad Hoc Intergovernmental Task Force on Irregular Migration. | Actions taken, progress made toward ongoing goal | Minister of Intergovernmental and Northern Affairs and Internal Trade |
| Safety and Security | Lead the government's plan on irregular migration, and ensure close collaboration with provinces, territories and municipalities. | Actions taken, progress made toward ongoing goal | Minister of Border Security and Organized Crime Reduction; Minister of Public Safety and Emergency Preparedness; Minister of Immigration, Refugees and Citizenship; Minister of Foreign Affairs |
| Exports and Investment | Strengthen trilateral cooperation with the United States and Mexico to enhance North America's global competitiveness. | Actions taken, progress made toward ongoing goal | Minister of Foreign Affairs |
| Exports and Investment | Advance Canada's progressive trade agenda. | Actions taken, progress made toward ongoing goal | Minister of International Trade Diversification |
| Exports and Investment | Promote trade and investment with established markets such as Japan. | Actions taken, progress made (Fall Economic Statement) | Minister of International Trade Diversification |
| Exports and Investment | Position Canada as a top destination for global investment and promote its economic brand. | Actions taken, progress made (Fall Economic Statement) | Minister of International Trade Diversification |
| Exports and Investment | Ensure alignment between Canada's export and innovation strategies. | Actions taken, progress made (Fall Economic Statement) | Minister of International Trade Diversification |
| Exports and Investment | Assess how the Government of Canada's trade resources are currently applied compared to where Canadians' economic opportunities are. | Completed - fully met (Fall Economic Statement) | Minister of International Trade Diversification |
| Exports and Investment | Ensure that our global engagements are maximizing relationship and partnership opportunities for Canadian businesses and workers. | Actions taken, progress made (Fall Economic Statement) | Minister of International Trade Diversification |
| Exports and Investment | Defend Canadian workers potentially affected by trade disputes, including in the forestry, energy and mining sectors. | Actions taken, progress made | Minister of Natural Resources; Minister of Foreign Affairs |
| Exports and Investment | Continue collaboration with the United States and Mexico in areas of mutual benefit, including energy security and cross-border infrastructure. | Actions taken, progress made | Minister of Natural Resources |
| Exports and Investment | Identify and address structural barriers to Canada's tourism sector to help unlock investment and diversify Canada's source of tourists and attractions. | Actions taken, progress made | Minister of Tourism, Official Languages and La Francophonie |
| Exports and Investment | Support the export mobilization of Canadian small- and medium-sized enterprises and ensure maximization of Canada's comparative advantage with its vibrant diversity and diaspora communities. | Actions taken, progress made (Fall Economic Statement) | Minister of International Trade Diversification; Minister of Small Business and Export Promotion |
| Exports and Investment | Maximize Invest in Canada. | Actions taken, progress made | Minister of International Trade Diversification |
| Exports and Investment | Implement CETA and ratify CPTPP. | Actions taken, progress made | Minister of International Trade Diversification |
| Exports and Investment | Make it easier for SMEs to take advantage of trade agreements including CETA and CPTPP. | Actions taken, progress made (Fall Economic Statement) | Minister of Small Business and Export Promotion |
| Exports and Investment | Develop and implement the trade diversification strategy for the benefit of the middle class and small businesses seeking export opportunities. | Actions taken, progress made (Fall Economic Statement) | Minister of International Trade Diversification; Minister of Small Business and Export Promotion |
| Environment and Climate Change | Cooperate with the United States on energy security and energy infrastructure. | Actions taken, progress made | Minister of Foreign Affairs |
| Environment and Climate Change | Advance shared action with the United States on environmental issues and climate change. | Actions taken, progress made | Minister of Foreign Affairs |
| Environment and Climate Change | Implement the G7 Charlevoix Blueprint for Healthy Oceans, Seas and Resilient Coastal Communities and the G7 Ocean Plastics Charter. | Actions taken, progress made | Minister of Fisheries, Oceans and the Canadian Coast Guard; Minister of Environment and Climate Change |
| Environment and Climate Change | Put more low-emission vehicles, including electric vehicles, on the roads in Canada. | Actions taken, progress made | Minister of Natural Resources; Minister of Transport |
| Environment and Climate Change | Support northern communities confronting immediate climate adaptation challenges. | Actions taken, progress made toward ongoing goal | Minister of Intergovernmental and Northern Affairs and Internal Trade |
| Environment and Climate Change | Ensure effective use of restored funding to freshwater, oceans, fish stocks and aquaculture research programs. | Actions taken, progress made | Minister of Fisheries, Oceans and the Canadian Coast Guard |
| Environment and Climate Change | Implement and further develop the Oceans Protection Plan. | Actions taken, progress made | Minister of Fisheries, Oceans and the Canadian Coast Guard; Minister of Transport; Minister of Environment and Climate Change; Minister of Natural Resources |
| Environment and Climate Change | Develop a strategy to protect Pacific salmon in cooperation with the Government of British Columbia, with concrete deliverables for the 2019 International Year of the Salmon. | Actions taken, progress made (Fall Economic Statement) | Minister of Fisheries, Oceans and the Canadian Coast Guard |
| Environment and Climate Change | Build on the work of Generation Energy and work with provinces and territories to accelerate clean growth strategies. | Actions taken, progress made | Minister of Natural Resources |
| Diverse and Inclusive Canada | Increase the labour force participation of women and underrepresented groups. | Actions taken, progress made | Minister of Employment, Workforce Development and Labour |
| Diverse and Inclusive Canada | Introduce proactive pay equity legislation for federally-regulated workers. | Actions taken, progress made (Fall Economic Statement) | Minister of Employment, Workforce Development and Labour; Minister of Status of Women |
| Diverse and Inclusive Canada | Reduce the wage gap between men and women. | Actions taken, progress made | Minister of Status of Women; Minister of Employment, Workforce Development and Labour |
| Diverse and Inclusive Canada | Implement Canada's new immigration levels plans. | Actions taken, progress made | Minister of Immigration, Refugees and Citizenship |
| Diverse and Inclusive Canada | Ensure the delivery of high-quality settlement services for newcomers, informed by rigorous outcomes data. | Actions taken, progress made | Minister of Immigration, Refugees and Citizenship |
| Diverse and Inclusive Canada | Review collection of gender statistics to evaluate programs and policies. | Actions taken, progress made | Minister of Status of Women |
| Diverse and Inclusive Canada | Integrate gender-based questions and content into government consultations. | Actions taken, progress made | Minister of Status of Women |
| Diverse and Inclusive Canada | Host a national Gender-Based Analysis roundtable in 2018. | Actions taken, progress made | Minister of Status of Women |
| Diverse and Inclusive Canada | Build on the first Gender-based Analysis of Budget 2017 to improve future budgets. | Actions taken, progress made | Minister of Status of Women |
| Diverse and Inclusive Canada | Ensure that Gender-based Analysis Plus (GBA+) is incorporated into key government reports. | Actions taken, progress made (Fall Economic Statement) | Minister of Status of Women |
| Diverse and Inclusive Canada | Improve the Temporary Foreign Worker Program so it meets the needs of Canadian workers and employers. | Actions taken, progress made | Minister of Immigration, Refugees and Citizenship; Minister of Employment, Workforce Development and Labour |
| Diverse and Inclusive Canada | Ensure the successful integration of refugees into Canadian society. | Actions taken, progress made | Minister of Immigration, Refugees and Citizenship |
| Diverse and Inclusive Canada | Work with all cultural and creative sectors on the successful delivery of initiatives and $3.2 billion of new funding announced in previous budgets. | Actions taken, progress made | Minister of Canadian Heritage and Multiculturalism |
| Diverse and Inclusive Canada | Continue to modernize the Broadcasting Act and Telecommunications Act, and examine how to best support Canadian content in English and French and ensure quality affordable Internet, mobile and media access. | Actions taken, progress made | Minister of Canadian Heritage and Multiculturalism; Minister of Innovation, Science and Economic Development |
| Diverse and Inclusive Canada | Review the Copyright Act to ensure Canadian creators are valued for their work, users benefit from choice, and businesses grow and succeed. | Actions taken, progress made | Minister of Canadian Heritage and Multiculturalism; Minister of Innovation, Science and Economic Development |
| Diverse and Inclusive Canada | Deliver the Creative Export Strategy. | Actions taken, progress made | Minister of Canadian Heritage and Multiculturalism; Minister of Small Business and Export Promotion |
| Diverse and Inclusive Canada | Enhance local community support for young Black Canadians at risk and advance research on more culturally appropriate mental health support programs for the Black community. | Actions taken, progress made | Minister of Canadian Heritage and Multiculturalism; Minister of Health |
| Diverse and Inclusive Canada | Support local journalism and develop business models that facilitate private giving and philanthropic support for professional non-profit journalism and local news. | Actions taken, progress made (Fall Economic Statement) | Minister of Canadian Heritage and Multiculturalism; Minister of Finance |
| Diverse and Inclusive Canada | Continue to welcome refugees from Syria and elsewhere. | Actions taken, progress made | Minister of Immigration, Refugees and Citizenship |
| Diverse and Inclusive Canada | Prepare celebrations for the 50th anniversary of the Official Languages Act. | Actions taken, progress made | Minister of Tourism, Official Languages and La Francophonie |
| Diverse and Inclusive Canada | Implement the Action Plan for Official Languages, and examine the modernization of the Official Languages Act. | Actions taken, progress made | Minister of Tourism, Official Languages and La Francophonie |
| Diverse and Inclusive Canada | Strengthen Canada's multicultural advantage by implementing a revitalized Multiculturalism Program and developing new initiatives to celebrate diversity and foster greater inclusion. | Actions taken, progress made | Minister of Canadian Heritage and Multiculturalism |
| Diverse and Inclusive Canada | Lead preparations for future international sporting events. | Actions taken, progress made | Minister of Science and Sport |
| Diverse and Inclusive Canada | Assess barriers faced by minority groups in Canada through cross-country engagement and develop a new federal anti-racism strategy to combat discrimination and racism. | Actions taken, progress made | Minister of Canadian Heritage and Multiculturalism |
| Indigenous peoples | Develop a vision for a national space for Indigenous peoples at 100 Wellington. | Actions taken, progress made | Minister of Crown-Indigenous Relations; Minister of Public Services and Procurement and Accessibility |
| Indigenous peoples | Promote culturally relevant sport for Indigenous youth. | Actions taken, progress made | Minister of Science and Sport; Minister of Indigenous Services |
| Indigenous peoples | Dissolve Indigenous and Northern Affairs Canada, and create a new Department of Indigenous Services and a new Department of Crown-Indigenous Relations and Northern Affairs to better serve Indigenous peoples. | Actions taken, progress made | Minister of Crown-Indigenous Relations; Minister of Indigenous Services; Minister of Intergovernmental and Northern Affairs and Internal Trade |
| Indigenous peoples | Lead a whole-of-government approach to renew the nation-to-nation, Inuit-Crown, and government-to-government relationship with Indigenous people. | Actions taken, progress made | Minister of Crown-Indigenous Relations |
| Indigenous peoples | Include Indigenous representatives in a meaningful way in Canada's federal-provincial-territorial dialogues. | Actions taken, progress made, facing challenges | Minister of Crown-Indigenous Relations; Minister of Intergovernmental and Northern Affairs and Internal Trade |
| Indigenous peoples | Advance devolution in Nunavut in collaboration with the government of Nunavut and Nunavut Tunngavik Inc. | Actions taken, progress made | Minister of Crown-Indigenous Relations; Minister of Intergovernmental and Northern Affairs and Internal Trade |
| Indigenous peoples | Increase the number of comprehensive modern treaties and new self-government agreements for Indigenous communities. | Actions taken, progress made, facing challenges | Minister of Crown-Indigenous Relations; Minister of Intergovernmental and Northern Affairs and Internal Trade |
| Indigenous peoples | Support Indigenous peoples in their work to advance self-determination. | Actions taken, progress made, facing challenges | Minister of Crown-Indigenous Relations |
| Indigenous peoples | Advance positions in co-operative dispute resolution processes that are consistent with the resolution of past wrongs toward Indigenous peoples. | Actions taken, progress made, facing challenges | Minister of Crown-Indigenous Relations |
| Indigenous peoples | Ensure the implementation of pre-Confederation, historic, and modern treaties and agreements. | Actions taken, progress made toward ongoing goal | Minister of Crown-Indigenous Relations |
| Indigenous peoples | Collaboratively, identify the best models for delivering improved services to Indigenous peoples, and improve accountability. | Actions taken, progress made, facing challenges | Minister of Indigenous Services |
| Indigenous peoples | Continue to provide services to Indigenous peoples, including community infrastructure, emergency management, water, education, moneys and trusts, and registration. | Actions taken, progress made, facing challenges | Minister of Indigenous Services |
| Indigenous peoples | Implement the United Nations Declaration on the Rights of Indigenous Peoples (UNDRIP) in full partnership with Indigenous peoples. | Actions taken, progress made, facing challenges | Minister of Crown-Indigenous Relations |
| Indigenous peoples | Make changes to the Oath of Canadian Citizenship to reflect the Truth and Reconciliation's Calls to Action. | Actions taken, progress made | Minister of Immigration, Refugees and Citizenship |
| Indigenous peoples | Provide new funding to preserve, promote and revitalize Indigenous languages and cultures. | Completed - fully met | Minister of Canadian Heritage and Multiculturalism |
| Healthy Canadians | Implement Canada's ban on asbestos. | Completed - fully met | Minister of Employment, Workforce Development and Labour |
| Healthy Canadians | Ensure safety and non-discrimination in blood donation policies. | Actions taken, progress made | Minister of Health |
| Healthy Canadians | Facilitate collaboration on an organ and tissue donation and transplant system that gives Canadians timely access to care. | Actions taken, progress made | Minister of Health |
| Healthy Canadians | Ensure Canada's response to the current opioid crisis is robust, well-coordinated and effective. | Actions taken, progress made, facing challenges | Minister of Health |
| Healthy Canadians | Ensure Canada has a solid surveillance system for monitoring and reporting overdoses and deaths related to opioids. | Actions taken, progress made | Minister of Health |
| Healthy Canadians | Review Canada's framework for dealing with public health emergencies. | Actions taken, progress made | Minister of Health |
| Healthy Canadians | Curb opioid misuse by introducing prescribing guidelines, tracking prescriptions at the patient level, and increasing transparency in marketing and promotion of therapies. | Actions taken, progress made, facing challenges | Minister of Health |
| Healthy Canadians | Ensure communities can introduce effective opioid treatments and programs. | Actions taken, progress made | Minister of Health |
| Healthy Canadians | Promote the Canada Health Act to make absolutely clear that extra-billings and user fees are illegal and reporting is improved. | Actions taken, progress made | Minister of Health |
| Healthy Canadians | Develop a new self-governed approach to delivering health services to Indigenous peoples and reduce health inequities between Indigenous peoples and non-Indigenous Canadians. | Actions taken, progress made | Minister of Health; Minister of Crown-Indigenous Relations; Minister of Indigenous Services |
| Healthy Canadians | Eliminate all long-term drinking water advisories on public systems on reserve by March 2021. | Actions taken, progress made | Minister of Indigenous Services |
| Healthy Canadians | Improve the delivery of child welfare and health care under Jordan's Principle to focus on the best interests of the child. | Actions taken, progress made | Minister of Indigenous Services |
| Healthy Canadians | Build on federally supported programs that support the needs of seniors and their families to promote healthy aging. | Actions taken, progress made | Minister of Seniors; Minister of Health; Minister of Families, Children and Social Development |
| Healthy Canadians | Engage with stakeholders and parliamentarians on ways to address dementia. | Actions taken, progress made | Minister of Seniors; Minister of Health |
| Healthy Canadians | Represent the Government of Canada at the Federal/Provincial/Territorial Ministers Responsible for Seniors Forum. | Actions taken, progress made | Minister of Seniors |
| Healthy Canadians | Consider options for how best to move forward with the implementation of national pharmacare. | Actions taken, progress made | Minister of Seniors; Minister of Finance; Minister of Health |
| Healthy Canadians | Better support Canadian athletes through the Athlete Assistance Program. | Actions taken, progress made | Minister of Science and Sport |
| Sustainable Infrastructure | Ensure that Canadians have access to accurate and timely information about community infrastructure investments, and improve financial reporting. | Actions taken, progress made | Minister of Infrastructure and Communities |
| Sustainable Infrastructure | Engage with provinces and territories to identify infrastructure priorities that achieve a fair balance of provincial, territorial, and municipal projects to benefit communities of all sizes. | Actions taken, progress made | Minister of Infrastructure and Communities |
| Sustainable Infrastructure | Ensure that infrastructure investments are accounted for and flow as construction work takes place. Honour bilateral agreements and report transparently to Canadians on changes. | Actions taken, progress made | Minister of Infrastructure and Communities; President of the Treasury Board and Minister of Digital Government |
| Sustainable Infrastructure | Ensure the Bank has the support it needs for its core purpose – attracting private sector and institutional investment to expand the scope of public infrastructure investment in Canada. | Actions taken, progress made | Minister of Infrastructure and Communities; Minister of Finance |
| Sustainable Infrastructure | Leverage ideas from the Smart Cities Challenge to select winners from communities of all sizes, and test new, Indigenous-led projects through the Indigenous Homes Innovation Initiative. | Actions taken, progress made | Minister of Infrastructure and Communities; Minister of Indigenous Services |
| Sustainable Infrastructure | Work with the Canadian National Railway Company, and the Government of Québec on a contribution towards repainting the Pont de Québec. | Actions taken, progress made | Minister of Infrastructure and Communities; Minister of Transport |
| Sustainable Infrastructure | Support the Windsor-Detroit Bridge Authority as it advances the construction of the Gordie Howe International Bridge. | Actions taken, progress made | Minister of Infrastructure and Communities |
| Sustainable Infrastructure | Monitor federal allocations to improve public transit accessibility, and create reporting obligations on these expenditures. | Actions taken, progress made | Minister of Public Services and Procurement and Accessibility |
| Sustainable Infrastructure | Launch a new Canadian Green Bond that can enable additional investments to support green projects when a lack of capital represents a barrier to green projects. | Actions taken, progress made | Minister of Infrastructure and Communities; Minister of Finance |
| Fair and Open Government | Enhance transparency in the political fundraising system for Cabinet members, party leaders and leadership candidates. | Actions taken, progress made | Minister of Democratic Institutions |
| Fair and Open Government | Increase the diversity of bidders on government contracts. | Actions taken, progress made | Minister of Public Services and Procurement and Accessibility |
| Fair and Open Government | Develop better tools to hold contractors accountable, particularly in large scale procurements. | Actions taken, progress made | Minister of Public Services and Procurement and Accessibility |
| Fair and Open Government | Publish clear metrics on the competitiveness, cost and timeliness of procurement. | Actions taken, progress made | Minister of Public Services and Procurement and Accessibility |
| Fair and Open Government | Make more government data available to vendors participating in procurement bidding to encourage better bids. | Actions taken, progress made | Minister of Public Services and Procurement and Accessibility |
| Fair and Open Government | Ensure prompt payment of contractors and sub-contractors. | Actions taken, progress made (Fall Economic Statement) | Minister of Public Services and Procurement and Accessibility |
| Fair and Open Government | Maintain open and collaborative relationships with provinces and territories, with the goal of working together to serve and improve the lives of all Canadians. | Actions taken, progress made | Minister of Intergovernmental and Northern Affairs and Internal Trade |
| Canada in the World | Continue joint efforts to address global security threats, combat terrorism and defend our continent. | Actions taken, progress made toward ongoing goal | Minister of Foreign Affairs |
| Canada in the World | Strengthen relationships with key bilateral, regional and multilateral partners. | Actions taken, progress made | Minister of Foreign Affairs |
| Canada in the World | Seek leadership opportunities for Canada and Canadians in multilateral institutions. | Actions taken, progress made | Minister of Foreign Affairs |
| Canada in the World | Ensure that the deployment of the Armed Forces aligns with Canada's interests, our commitments and the government's policy. | Actions taken, progress made | Minister of Foreign Affairs |
| Canada in the World | Conduct a review of the visa policy framework. | Actions taken, progress made | Minister of Immigration, Refugees and Citizenship |
| Canada in the World | Develop a new Arctic Policy and a shared Arctic Leadership model for the government's work in the North. | Actions taken, progress made | Minister of Crown-Indigenous Relations; Minister of Intergovernmental and Northern Affairs and Internal Trade |
| Canada in the World | Defend, strengthen and promote the use of French around the world, including in the digital sphere and within international organizations. | Actions taken, progress made | Minister of Tourism, Official Languages and La Francophonie |
| Government Services and Operations | Ensure that the government's advertising budget better supports Canadian content providers and platforms. | Actions taken, progress made | Minister of Canadian Heritage and Multiculturalism; President of the Treasury Board and Minister of Digital Government; Minister of Public Services and Procurement and Accessibility |
| Government Services and Operations | Help Veterans gain skills to successfully transition to the civilian workforce. | Completed - fully met | Minister of Veterans Affairs |
| Government Services and Operations | Implement the Caregiver Recognition Benefit, paid directly to Veterans' caregivers. | Completed - fully met | Minister of Veterans Affairs |
| Government Services and Operations | Implement the new Veteran Emergency Fund and Veteran and Family Well-Being Fund. | Completed - fully met | Minister of Veterans Affairs |
| Government Services and Operations | Streamline the suite of benefits, improve transparency and communications, and improve the experience of Veterans as their needs change throughout their lives. | Actions taken, progress made | Minister of Veterans Affairs |
| Government Services and Operations | Ensure public servants are paid accurately and promptly. | Actions taken, progress made, facing challenges | Minister of Public Services and Procurement and Accessibility |
| Government Services and Operations | Improve the delivery of information technology within the Government, including the renewal of Shared Services Canada. | Actions taken, progress made | Minister of Public Services and Procurement and Accessibility |
| Government Services and Operations | Ensure the timely and orderly transition of Parliamentary operations during the renewal of the Parliamentary precinct. | Actions taken, progress made | Minister of Public Services and Procurement and Accessibility |
| Government Services and Operations | Enhance the quality and capacity of services provided by the Translation Bureau, and promote the economic vitality of Canada's translation and interpretation community. | Actions taken, progress made | Minister of Public Services and Procurement and Accessibility |
Date modified:
Report a problem on this page