Archived - Annex 2
Update on the 2022-23 Debt Management Strategy
On this page:
Introduction
As part of Budget 2022, the government released the 2022-23 Debt Management Strategy, which set out the government's objectives, strategy, and borrowing plans for its domestic debt program and the management of its official international reserves.
Highlights from the Consultations
In September and October 2022, the Department of Finance and the Bank of Canada held over 25 bilateral meetings with, and received written comments from, market participants. These consultations, which are an integral part of the debt management process, sought views on issues related to the design and operation of the Government of Canada's domestic debt program.
Overall, market participants said the Canadian debt market continues to function relatively well in a global environment of increasing interest rates and significantly higher volatility. There is generally good demand for almost all Government of Canada debt issuance sectors with the exception on the 3-year bonds and Real Return Bonds where demand and liquidity have been relatively weaker. Furthermore, participants agreed that Canada should, over time, consider a broader sustainable bond framework that could include social and transition bonds, as well as green bonds.
A detailed summary of the fall 2022 consultations can be found on the Bank of Canada's website.
Adjustments to the 2022-23 Borrowing Plan
As presented in the fiscal projections section, the fiscal outlook for 2022-23 has improved since Budget 2022. The projected deficit for 2022-23 has improved by $16 billion relative to the spring estimate. Additionally, the deficit for 2021-22 has been revised down by more than $23 billion since Budget 2022.
Reflecting this improved fiscal position, the level of bond issuance for 2022-23 has been reduced by $21 billion and the year-end treasury bills stock has been reduced by $21 billion from what was outlined in the 2022-23 Debt Management Strategy. This continues the decline in issuance from the 2020-21 peak, brought on by COVID-19, to more normal levels (see Chart A2.1).
In June 2022, the government announced its decision to cancel the issuance of its ultra-long bond maturing in December 2064. This decision reflects Canada's declining borrowing needs generally. The government will communicate any further intentions on ultra-long bond issuances should the situation warrant. The updated projection for gross issuance of bonds and treasury bills is set out in Table A2.1.
Real Return Bond Program
The government has decided to cease issuance of Real Return Bonds (RRBs) effective immediately. This decision reflects low demand for this product and will allow the government to promote liquidity by consolidating funding within our core funding sectors.
Chart A2.1
Government of Canada Total Gross Issuance by Fiscal Year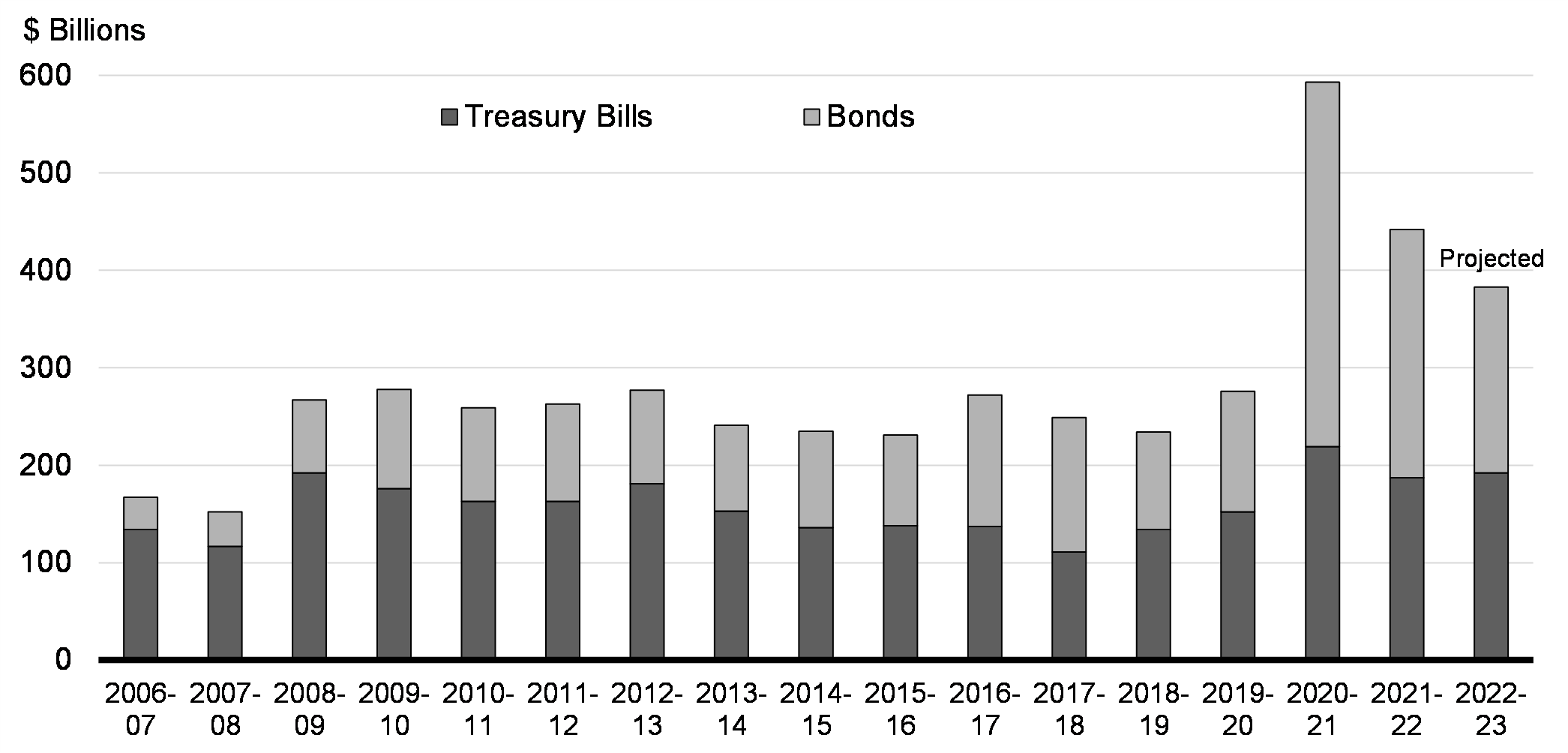 Table A2.1
Projected Gross Issuance of Bonds and Bills for 2022-23
billions of dollars
2021-22
Actual1
2022-23
Budget 2022
2022-23
Update
Change
from Budget 2022

Treasury bills

187
213
192
-21

2-year

67
74
68
-6

3-year

29
24
20
-4

5-year

40
34
31
-3

10-year

79
54
52
-2

30-year

30
16
14
-2

Real Return Bonds (RRB)

1
1
1
-

Ultra-long

4
4
-
-4

Green bonds

5
52
52
-

Total bonds

255
212
191
-21
Total gross issuance
442
425
383
-42

Sources: Bank of Canada; Department of Finance Canada calculations.

Note: Numbers may not add due to rounding

1 Includes a 10-year auction conducted in March 2022 with a settlement date in the 2022-23 fiscal year.

2 Placeholder for green bonds. Issuance decision subject to factors such as availability of eligible expenditures and market conditions.
The reductions to this year's bond program relative to the Budget 2022 plan have been implemented in a balanced way to support market well-functioning across all sectors. These reductions will also result in decreased benchmark sizes relative to the Budget 2022 plan (Table A2.2).
Table A2.2
Maturity Date Patterns and Benchmark Size Ranges1
$ Billions
Feb.
Mar.
Apr.
May
June
Aug.
Sept.
Oct.
Nov.
Dec.
2-year
14-18
 
 
14-18
 
14-18
 
 
14-18
 
3-year
 
 
8-12
 
 
 
 
8-12
 
 
5-year
 
14-18
 
 
 
 
14-18
 
 
 
10-year
 
 
 
 
18-24
 
 
 
 
18-24
30-year2
 
 
 
 
 
 
 
 
 
25-40
Real Return Bonds2,3
 
 
 
 
 
 
 
 
 
8-12

Source: Department of Finance Canada calculations.

Note: These amounts do not include coupon payments.

1 Actual annual issuance may differ.

2 The 30-year nominal bond and Real Return Bond do not mature each year or in the same year as each other.

3 Benchmark size range includes estimate for inflation adjustment, while planned annual issuance does not.
Ukraine Sovereignty Bond
On October 28, 2022, the Government of Canada announced its intention to issue a $500 million Ukraine Sovereignty Bond, giving Canadians an opportunity to provide financial assistance to the Government of Ukraine. Equivalent proceeds from this bond issuance will be channeled into a loan, via the IMF Administered Account, to support the government and people of Ukraine. The government is currently in discussions with financial institutions to make this bond easily available to Canadians through their traditional investment channels.
Green Bond Program
In March 2022, the Government of Canada published its Green Bond Framework. This was followed by the government's inaugural green bond issuance of $5 billion, which was the largest Canadian dollar green bond offering to date and saw strong demand from green and socially minded investors. Canada's green bond program will help support the growth of the sustainable finance market in Canada and highlight Canada's investments in climate action and environmental initiatives.
Consistent with Canada's green bond framework, the government plans to release the allocation report for its inaugural green bond before the end of 2022-23 and the first impact report will follow. Additionally, another green bond issuance is planned before the end of 2022-23. Future decisions on size, tenor, and timing of the next green bond issuance will take into consideration views from market participants and the availability of eligible green expenditures.
The Government of Canada will also explore the development of a sustainable bond framework, which would allow the government to issue, for example, social or transition bonds, in addition to green bonds. This would reflect the government's support for a broad set of environmental and social policies and further support the development of the Canadian sustainable finance market.
Global Bond Issuance
Canada issues foreign currency bonds solely for the purpose of bolstering its liquid foreign currency reserves. In April 2022, Canada issued a 3-year, US$3.5 billion global bond. This global bond issuance was well received by markets as it attracted more than double its allocation, priced tighter than peer issuers, and broadened the investor base to include more high-quality international and domestic investors. It was also a valuable way to further diversify funding sources for Canada's foreign reserves.
Report a problem on this page
Date modified: